Prof. Bob Hershberger to Receive 2004 Liberty Bell Award
April 5, 2004
April 5, 2004, Greencastle, Ind. - Robert P. Hershberger, assistant professor of modern languages (Spanish) at DePauw University, is the recipient of the 2004 Liberty Bell Award. The Award is given by the Young Lawyers Section of the Indiana State Bar Association, and celebrates "community service which strengthens our system of freedom under law." The Liberty Bell Award is typically given to non-lawyers who have rendered outstanding service to their communities. Dr. Hershberger will be honored April 29 at the Bar Association's spring meeting in Fort Wayne.
Bob Hershberger is being honored for the work that he does to bring greater understanding of the law and individual rights to Indiana's Latino communities. The professor has worked in conjunction with the Indiana Pro Bono Commission to translate into Spanish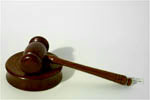 fliers for District 7 (Terre Haute and surrounding counties) that explain free legal services that are available. Hershberger has also extended a standing offer to all 14 pro bono districts in Indiana to assist with English to Spanish translations. Additionally, Hershberger and his students recently completed a Spanish version of the rules and regulations of the Domestic Violence Shelter in Terre Haute and are currently in the process of translating the Indiana State Bar Association's pamphlet "How Can I Find and Hire the Right Lawyer?" Last week, Greencastle's Banner-Graphic wrote of how one of Professor Hershberger's students, DePauw freshman Jen Burress, is teaching Spanish to local law enforcement and community leaders (read more here).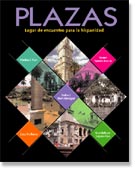 Visit the Indiana State Bar Association online by clicking here.
Dr. Hershberger is the lead author of Plazas, a first-year, interactive Spanish textbook that allows students to hear the voices of people from 15 different Spanish speaking countries, so they can learn the proper pronunciation of words and become better listeners and more understanding of cultural and regional nuances. Read more by clicking here.
Back