Prof. Doug Harms Receives Fulbright Award, Will Teach and Conduct Research in Bulgaria
April 8, 2004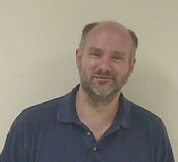 April 8, 2004, Greencastle, Ind. - Douglas E. Harms, professor of computer science at DePauw University, is the recipient of a Fulbright Award for the 2004-05 academic year. As a result, Dr. Harms will spend the upcoming year teaching several undergraduate and graduate courses in the department of computing at the University of Rousse, in Rousse, Bulgaria. The professor will also conduct research on the history of computing in Bulgaria, take part in seminars, and participate in the life of the University's academic community.
"I anticipate this award will be beneficial to me professionally by giving me the opportunity to meet and interact with Bulgarian colleagues, research the history of computing from a non-US centric point of view, and experience teaching in a large university environment where students' primary language is not English," Harms says. "I also plan to investigate locations and activities for possible future Winter Term or Winter Term in Service trips to Bulgaria. My wife, Mary Beth, and our three youngest children (Abigail, age 8, Isaac, age 9, and Alisha, age 15) will move with me to Rousse, and though we know there will be

many challenges ahead, we are confident this experience will be meaningful and rewarding for all of us and will help us be more culturally sensitive and aware."
Dr. Harms is one of approximately 800 U.S. faculty and professionals who will travel abroad to some 140 countries for the 2004-05 academic year through the Fulbright Scholar Program. Established in 1946 under legislation introduced by the late Senator J. William Fulbright of Arkansas, the program's purpose is to build mutual understanding between the people of the United States and other countries. The Council for International Exchange of Scholars (CIES), under a cooperative
agreement with the United States Department of State, administers the Fulbright Scholar Program for faculty and professionals.
The selection process for the awards is very competitive. Harms will be one of about eight Fulbright Scholars in Bulgaria next year. "I am very excited about this opportunity, and honored to represent DePauw and Greencastle," he adds.
Since its beginnings, the Fulbright Program has enabled thousands of Americans to study, teach or conduct research abroad, and thousands of their counterparts have engaged in similar activities in the U.S. Recipients of Fulbright Scholar awards are selected on the basis of academic or professional achievement and because they have demonstrated extraordinary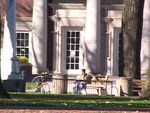 leadership potential in their fields. Fulbright Scholar alumni include Nobel Prize-winning economist Milton Friedman, Intel Corporation CEO Craig Barrett, Pulitzer Prize-winning poet Rita Dove, Alan Lesher, CEO of the American Association for the Advancement of Science, and Nafhat N. Nasr, professor of political science at DePauw University, who spent the 2002-03 academic year at the University of Balamand in Lebanon (read more here).
Back