Bring Back the Draft to Gauge Real Support for the War, Prof. Ken Bode Writes in Star Op-Ed
April 9, 2004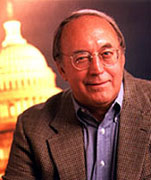 April 9, 2004, Greencastle, Ind. - "It will take some guts for President Bush to make this speech, but I believe he has them," begins an op-ed by Ken Bode, Eugene S. Pulliam Distinguished Professor of Journalism at DePauw University, published in today's Indianapolis Star. The professor suggests that Bush should tell the nation, "we must acknowledge the need for broader sacrifice in our war against terror. If our country is to fulfill its mission to make the world safe for democracy, beginning with Iraq, we must begin by giving greater support to the courageous men and women of our armed forces and National Guard... We need to call upon the patriotism, the loyalty and the support of a greater number of our citizens. That is why I am asking Congress to act urgently to re-institute the selective service system that always has served America's manpower needs in wartime."
Bode suggests a draft with no college deferments, adding, "A nationwide poll taken by Harvard University late last year showed that college students generally approve of Bush by 61 percent and 59 percent strongly or somewhat support what he is doing in Iraq. Students may not like disrupting their college experience, but surely when they realize that they are only being asked to
do their share to extend democracy in this very dangerous world, they will set aside their doubts and heed the call to patriotism."
The former CNN, NBC and PBS political anlayst continues, "Re-instituting the draft would show that the president appreciates that sacrifice for the war in Iraq is not distributed evenly among all Americans. Some of us are just cruising -- worried about jobs or gasoline prices -- but we have no personal stake in Iraq. Those who volunteered or signed up to serve in the National Guard bear all the direct costs of this war... So long as the legitimacy of this war is

measured only by pollsters, we will never have a true measure of public support. Bring back the draft, Mr. President. Then we'll see."
You can read the entire essay at College News.org.
Ken Bode is a regular contributor to the newspaper's opinion page. Learn about his other recent op-eds by clicking here, here, here, here, here, here, here, here and here.
Source: Indianapolis Star
Back