New York Times Reviews Prof. Valarie Ziegler's Book, Diva Julia
April 10, 2004

April 10, 2004, Greencastle, Ind. - "Julia Ward Howe (1819-1910) was a legend in her own time," begins an item in the Sunday, April 11 New York Times' books section. "In her biography, Diva Julia, Valarie H. Ziegler, who teaches religious studies at DePauw University, elucidates the complicated truths behind the Howes' 'celebratory public images' of a 'noble Victorian family' headed by parents devoted to each other and to public service. From early childhood, Howe, the daughter of a wealthy New York banker, made her formidable intellect and drive evident, as well as the importance of writing as an emotional and creative outlet," writes Sherie Posesorski.
Diva Julia: The Public Romance and Private Agony of Julia Ward Howe is the first full-length biography of Howe, the noted suffragist, author of The Battle Hymn of the Republic and inventor of Mother's Day. The book earned Dr. Ziegler the inaugural Trinity Prize. Awarded by Trinity Press International, the Prize recognizes a writer or scholar whose cross-disciplinary writing has broad application for a general audience (read more here). Publisher's Weekly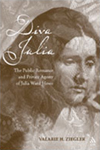 opined, "Howe's own children wrote extensively on her remarkable life of ideas and action, but no one has been so thorough or bold as Ziegler" (read more here).
In the Times, Posesorski notes, "Soon after her marriage to a physician and reformer, Samuel Gridley Howe, in 1843, [Julia Ward Howe] discovered that her authoritarian husband was as much a jailer as her father had been, and found it impossible to allow her to maintain her literary ambitions. Their marriage would become an interminable cycle of acrimony and argument, philandering and demands for divorce on his side, with their children torn between them, hurt and often critical of her. Nonetheless, following the success of Howe's first book of poetry in 1854, as Ziegler writes, 'Once she found a public voice, there was no turning back.'"

Access the item at the newspaper's Web site by clicking here.
Source: New York Times
Back