Indiana Journalism Hall of Fame Inducts 5 New Members, Newspaper Reports
April 12, 2004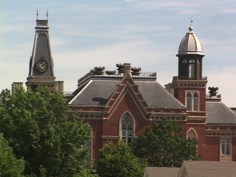 April 12, 2004, Greencastle, Ind. - Five new members were inducted into the Indiana Journalism Hall of Fame Saturday, the Indiana Daily Student reports. The new inductees are: Steve Bell, former ABC News anchor/reporter who is now professor of telecommunications at Ball State University; Trevor R. Brown, professor of journalism and dean of the Indiana University School of Journalism; Henry Herr Gill, a photojournalist who worked at Chicago's Sun-Times and Daily News and led an Italian-based news service; Ed Spray, television director and president and CEO of Scripps Networks; and George P. Steward, co-founder, publisher and editor of the Indianapolis Recorder. They "make up the 39th group inducted into the Hall of Fame, bringing the total membership to 197."
The student newspaper of Indiana University adds, "The Indiana Journalism Hall of Fame was established in 1966 by the Indiana Chapter of The Society of Professional Journalists. The Hall of Fame is housed in the

East College of DePauw University in Greencastle, also the birthplace of the Society of Professional Journalists in 1909."
Read the story by clicking here. Learn more by clicking here.
Back