Prof. John Dittmer to Examine 'Civil Rights Anniversaries' in April 20 Presentation
April 12, 2004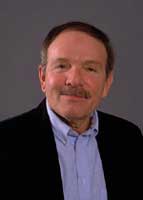 April 12, 2004, Greencastle, Ind. - John Dittmer, emeritus professor of history at DePauw University, will speak on "Civil Rights Anniversaries: The Brown Decision, Freedom Summer in Mississippi, and The Unfinished Revolution," Tuesday, April 20 at 7:30 p.m. the auditorium of the F.W. Olin Biological Sciences Building. The speech, which is free and open to the public, is sponsored by the Office of the President.
"We are delighted that John Dittmer's presentation, which has been extremely well-received by audiences across America, will be brought to the 'home crowd,'" said DePauw President Robert G. Bottoms. "Dr. Dittmer is nationally recognized as a top civil rights historian. Given that this is the 50th anniversary of the Brown v. Board of Education -- which began desegregation of the public schools -- and that it was 40 years ago this summer that the Mississippi Freedom Democratic Party took its concerns about white supremacy in the South to the Democratic National Convention, John's message will be timely and thought provoking," Dr. Bottoms added.
In recent months, Professor Dittmer has lectured as far away as the University of Alabama and as nearby as Indiana State University. At ISU, where he spoke as part of Black History Month and the American Democracy Project, Dittmer said, "Schools are more segregated now than
they were 30 years ago and this does not seem to be a concern to many Americans... the problems facing public education are just as daunting as they were a half-century ago." Read more by clicking here and here.
John Dittmer joined the DePauw University faculty in 1985. He was the recipient of the 1999 Exemplary Teaching Award from the General Board of Higher Education Ministry of the United Methodist Church. His book, Local People: The Struggle for Civil Rights in Mississippi, was published in 1994 and received the prestigious Herbert G. Gutman Award, the Lillian Smith Book Award, the McLemore Prize from the Mississippi Historical Society and the Bancroft Prize. The New York Times named Dittmer's book one of the "Notable Books of 1994." Julian Bond called Local People "the definitive analytical history of the black freedom movement in the nation's most recalcitrant state."
Back