Washington Post Notes DePauw's Posse Participation
April 13, 2004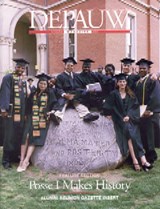 April 13, 2004, Greencastle, Ind. - "Well-known colleges frequently take chances on low-income students who are the first in their families to try to get a bachelor's degree. But there is something very different about the Posse Foundation," writes Jay Mathews in today's Washington Post in a story that notes DePauw's participation in the Posse program. (photo, by Marilyn E. Culler, shows DePauw's first Posse graduates from the Class of 2001)
The column tells the story of Laura Torres, who hails from East Los Angeles. Mathews writes, "Like most students at that overcrowded and almost entirely Hispanic school, her family did not have enough money to send her away to the university. Her grades and test scores were good, but she did not live in Beverly Hills. People in her neighborhood rarely even thought about going to one of those schools near the top of the U.S. News and World Report list."
A Posse Foundation scholarship allows Torres to attend Grinnell College, where she is a freshman. "Unlike most students who move from cracked concrete inner city high schools to the broad green lawns of the best private colleges, Torres has some friends with her to face this new world. She arrived last fall as part of a group of 12 Los Angeles students. They lacked either the sparkling grades and test scores or the big family incomes -- and in many cases they lacked both -- that help get you into a place like Grinnell. But the dozen California teenagers had been meeting every week since the previous January as a group -- the term 'posse' is teenage patois for one's circle of friends -- to learn how to survive TOGETHER in what they all viewed as alien territory."
DePauw is among "19 colleges accepting annual groups of 10 to 12 students each under the Posse program from four metropolitan areas, New York, Chicago, Boston and Los Angeles. The Washington area will start a Posse program this fall with a $1 million grant from the Sallie Mae Fund," the Post reports. Mathews writes, "There are now 534 Posse students at 19 American campuses. Their predecessors have a college graduation rate more than twice the national average for

such students, suggesting that this may be a solution for what is one of the saddest, and least reported, stories in education today."
Read the complete story at the Washington Post's Web site by clicking here. DePauw's partnership with the Posse Foundation began in 1996, and was noted in another article, which is accessible here, and was the subject of a story on New York 1, the 24-hour cable news channel that serves America's largest city. Read more and access video clips here. Another article, in Black Issues in Higher Education, can be found here.
Source: Washington Post
Back