Concerto Competition Winners Perform Sunday Afternoon
April 13, 2004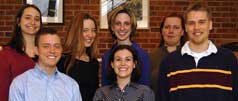 April 13, 2004, Greencastle, Ind. - Winners of the annual DePauw School of Music Concerto Competition will perform with the DePauw Symphony Orchestra this Sunday, April 18 at 3 p.m. in Kresge Auditorium of the Performing Arts Center. The event is free and open to the public.
The eight winners were selected from 36 contestants during two rounds of competition in February 2004. Judges for the first round were DePauw School of Music faculty. Judges for the final round were faculty from outside the University. The winners include Stephanie Gurga, piano; Adam Bodony, trombone; and Matt Rosensteele, marimba. Two-time winners of the competition are Scarlett Lant, violin; Leighann Daihl, flute; and Stephanie Harris, soprano. Amy Hayes, soprano, is a three-time winner; and Jennifer Wingert, cello, is an extraordinary four-time winner of the competition (photo at top shows, l-r, front row: Rosensteele, Lant, Bodony; back row: Wingert, Gurga, Daihl, Hayes; Harris is not pictured).
Conducted by Orcenith Smith, the concert will feature works
by Sibelius (Violin Concerto), Mozart (Flute Concerto in D), Dvorák ('Cello Concerto), Rachmaninoff (Piano Concerto No. 2), Creston (Marimba Concertino), Tomasi (Trombone Concerto), Glitter and Be Gay from Leonard Bernstein's Candide, and the "Doll Aria" from Tales of Hoffmanby Offenbach.
For additional information visit the DePauw School of Music's online by clicking here, or phone (765) 658-6732.
Back