Organization Founded by 'Coach Nick' Extends its Reach
April 15, 2004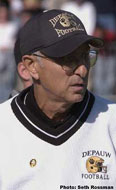 April 15, 2004, Greencastle, Ind. - Chi Alpha Sigma, the National College Athlete Honor Society, "was founded by Nick Mourouzis, the head football coach at DePauw University in Greencastle, Indiana," reads a story on the Web site of Northeastern University. The college, which recently launched a chapter of Chi Alpha Sigma, is preparing to induct 13 student-athletes as its first members. The article notes that Mourouzis "founded Chi Alpha Sigma with the intent of being the first organization that honors athletes who are outstanding on the field and in the classroom."
In order to be inducted in Chi Alpha Sigma, a student-athlete must earn a varsity letter in his/her sport, be a junior or senior academically and achieve a cumulative 3.4 grade-point average. You can read the news item by clicking here.
Nick Mourouzis retired at the conclusion of the 2003 football season as DePauw's all-time winningest football coach
in terms of total victories (read more here). Mourouzis led DePauw's football program for 23 years, compiling a record of 138-87-4. "Coach Nick" retired as 11th in wins among all active NCAA Division III coaches, second among active Indiana collegiate coaches and fourth all-time in the state's history. DePauw's seniors selected "Coach Nick" to be the speaker at the University's 165th annual Commencement, Sunday, May 23 (read more here).
Bill Lynch was announced as DePauw's new football coach December 23, 2003. Read more by clicking here.
Back