Sixth Building in Rector Village to be Named Montgomery Hall
April 19, 2004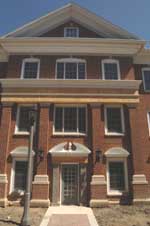 April 19, 2004, Greencastle, Ind. - A beloved residence hall created lifelong memories for a 1976 DePauw graduate and successful entrepreneur, and now that alumna, Darlene Montgomery Ryan, is making a lasting impression on the University by naming the sixth residence hall in the new Rector Village Montgomery Hall in honor of her family. Rector Village, a complex of seven town-home style residence halls, features single-occupancy rooms and traditional architecture.
"The name of Rector Hall is one I'll never forget," said Ryan, who lived in Mason Hall next door to Rector Hall as a freshman and worked in the cafeteria on the lower level of Rector. On April 7, 2002, Rector Hall was damaged beyond repair in a fire. "I know the impression that the name of any building on campus leaves on the students who live and study there. It is a part of their lives forever.
Thirty years later, that building lives on in my memory, even though the building itself is gone. I want people to remember the name Montgomery and to think of it fondly when they remember their days at DePauw."
Ryan, who was a mathematics and German major, believes that the new Rector Village, featuring seven suite-style residence halls -- including Montgomery Hall -- will one day conjure up wonderful memories for future DePauw students. "If I were a student now, I would want to live in such a building and village," Ryan said. "I love the private rooms with the shared living and kitchen areas, like apartments, but right in the middle of campus. DePauw is a special place, and these units are a great way to live in the middle of it."
Darlene Montgomery Ryan chose to name Montgomery Hall with her maiden name rather than her married name because she wants to honor her father, Ken Montgomery, and her brother, Bruce Montgomery, who along with Darlene co-founded PharmaFab in 1994. Darlene now serves as president and CEO of the company, a contract

pharmaceuticals formulator and manufacturer. Her father died in 1997 before the company became as successful as it is today. PharmaFab has been named to the Inc. 500 list of the fastest growing private companies in the country for three years in a row. Last month, Darlene was recognized as a Leading Woman Entrepreneur of the World (read more here). In 2003, she was named Ernst & Young's Southwest Area Life Sciences Entrepreneur of the Year (read more here).
While Ryan fondly remembers time spent as a student in the [newly renovated] Percy Lavon Julian Science & Mathematics Center, East College and Roy O. West Library, she also remembers the professors who made her DePauw experience special.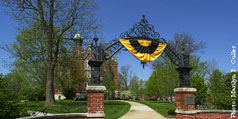 In particular, her accounting professor, the legendary Perk Allen, inspired her to pursue a career as a CPA. She benefited from the significant amount of time she spent "hanging out" with math professors Carl Singer, Jack Morrill and Underwood Dudley. She soaked up the German language and culture in numerous visits to the homes of her German professors, which sparked her lifelong interest in and travel to Germany.
"What impresses me most about DePauw is how progressive, innovative and current the University is, while preserving and nurturing its roots," Ryan said, "I see it in the science programs and the Julian Center. I also see it in the preservation of the Rector name and the general look and feel of the exteriors of the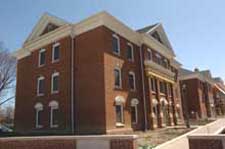 buildings in Rector Village, while incorporating the latest thinking about how students want to live."
Montgomery Hall will be open for students beginning with the fall semester. Students moved into two other Rector Village halls during the spring semester. Five of the other buildings in Rector Village have been named: Reese Hall (read more here), Holmberg Hall (read more here), Warne Hall (read more here) Leis Hall (read more here), and Strasma Hall (read more here).
Back