New Liberal Talk Radio Network Faces Major Hurdles, Prof. Jeff McCall '76 Writes in Op-Ed
April 20, 2004

April 20, 2004, Greencastle, Ind. - Air America, the new liberal talk radio network, is on-the-air, Jeffrey McCall notes in an op-ed published in today's Indianapolis Star The professor of communication arts and sciences at DePauw and 1976 graduate of the University writes, "the liberal network is starting slowly and will take a long time, if ever, to generate traction. The liberals will have trouble beating the right at their own game, and ideology has little to do with it. The major problem is that this broadcast initiative was driven from the outset by political anger and not by good media sense."
Dr. McCall notes, "Most radio markets will support only one talk format station. Even the largest markets can support only two or three. The bad news for Air America is that these stations are already filled, and profitably, with conservative-style talk. Rush Limbaugh is on about 600 stations. Sean Hannity and Bill O'Reilly are on 400 each. Michael Savage is on 350.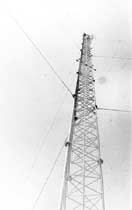 Then there are Snow, Boortz, Ingraham, etc., each with triple-digit numbers. And most of these stations have their own local talkers to round out the day. Air America, as an untested and unknown, will not shoehorn its way into any station now programming right of center with an identified audience and profit margin. In the radio-programming world, if you have an audience listening to conservatives and advertisers paying to broadcast them, you leave well enough alone."
The essay continues, "Radio may just not be the medium of choice for the audience Air America wants to reach with the format it offers. A recent Pew Research study showed that 44 percent of radio news audiences identified themselves as conservatives, compared to only 16 percent of those listeners who considered themselves liberal. Research also shows that younger people, specifically targeted by Air America, consider radio a secondary medium for political information, compared to the Internet and even late-night comedy programs." Professor McCall

concludes, "It could take a long time, a lot of money and a radio evolution for this format to take off. In the meantime, liberals should use other avenues to get their message out and forget the impossible task of trying to convince Savage's listeners they might be wrong."
Read the column in its entirety at College News.org. Read about Jeff McCall's recent op-ed on the Federal Communication Commission's crackdown on broadcast indecency by clicking here.
Source: Indianapolis Star
Back