World Net Daily Quotes Prof. Jeff McCall '76
April 22, 2004
April 22, 2004, Greencastle, Ind. - Air America, the new, liberal radio network that features shows by Al Franken and Janeane Garofolo, now only has one affiliate in one of America's top 10 media markets and is struggling, notes a story on World Net Daily that includes the perspective of a DePauw University professor and alumnus.
"'The liberal talkers are not only battling the conservatives for air time, they are up against the sports talkers, on-air counselors, medical advisers, computer talk geeks and so on,' writes Jeffrey McCall, professor of communication arts and sciences at DePauw University in Indiana. 'This is a tough party to crash.'"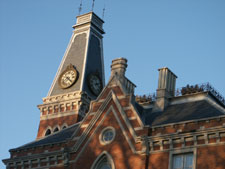 Access the complete story online by clicking here. The quote used in the story is drawn from an op-ed by Dr. McCall, a 1976 graduate of DePauw, which was published in the April 20 Indianapolis Star. Read more here.
Back