Prof. Ken Bode Recalls the "Unassuming Honesty" of the Late Gov. Robert Orr
April 23, 2004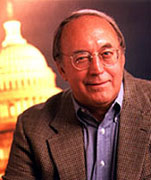 April 23, 2004, Greencastle, Ind. - "When I moved to Greencastle with my family 15 years ago, a friendly neighbor welcomed us with this advice: I hope you stay a long time, but remember, no matter how long you stay you will never be considered natives. With that in mind, I have paused to allow more authentic Hoosiers to eulogize Gov Bob Orr before offering my own memoir," begins the weekly op-ed by Ken Bode, Eugene S. Pulliam Distinguished Professor of Journalism at DePauw University, published in today's Indianapolis Star. "My time as national political correspondent for NBC News overlapped Orr's eight years as governor," Dr. Bode writes.
Robert Orr, who served as Indiana governor from 1981 to 1989, died March 10, 2004
at the age of 86. One of the things I liked about Bob Orr was his unassuming honesty. He answered questions and shared information. It was not his job to spin the press." Bode shares several anecdotes involving Orr and Seth Denbo, fellow Republicans who engaged in friendly sparring over the years.
Bode writes, "When Ol' Denbo died, hitting a patch of black ice on a country road, Gov. Orr knew respect was owed so he traveled to Crawford County for the funeral. Orr smiled and said, 'I wanted to be sure there was nothing still moving in that coffin.' Not at all alike, Bob Orr and Seth Denbo remain two of the most authentic Hoosier political characters I ever reported on. When Orr arrives to check in at the Pearly Gates, I envision him being greeted by the squat, raspy-voiced courthouse pol: 'Bob, Ol' Denbo here. I know my way around this

place. I've got some folks you need to meet.'"
Access the complete column by clicking here.
Ken Bode's essays appear each Friday on the Star's opinion page. Read his other recent contributions here, here, here, here, here, here, here, here, here, here and here.
Source: Indianapolis Star
Back