Prof. Jeff McCall '76 on NPR Affiliate's Noon Edition
April 23, 2004
April 23, 2004, Greencastle, Ind. - For years, the Federal Communications Commission had been

[DOWNLOAD AUDIO: "The FCC" 375KB] "unwilling to enforce the rules in place, but also unwilling to step forward and say 'We're doing this consciously,'" Jeffrey McCall, professor of communication arts and sciences at DePauw, said today on Bloomington, Indiana-based NPR affilate WFIU's Noon Edition. Dr. McCall says he supports the FCC's recent crackdown on broadcast indecency. "I think the kind of laissez-faire, we're not gonna get involved, hands-off approach to indecency regulation doesn't serve anybody's purpose because the broadcasters are confused and then the public that wants maybe stronger controls, they don't know how to impact the system, either."
McCall, a 1976 graduate of DePauw, spent an hour on the program discussing issues related to media regulation and answering phone calls and e-mails from listeners. He says the utterance of an expletive by rock star Bono on the live telecast of the 2003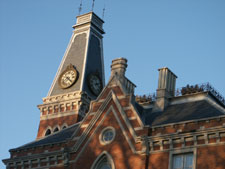 Golden Globe Awards led to the FCC's new get-tough stance. Last month, the FCC overruled its staff and ruled that Bono's language was both indecent and profane, marking the first time the FCC pointed to a four-letter word as profane.
The incident was

[DOWNLOAD AUDIO: "Bono's Outburst" 582KB] "a lightning rod [for] congressional leaders and certain citizen action groups," McCall told the radio program. "They got a lot of people to contact congressmen about this." The professor says an aide to one lawmaker told him "that they had received more constituent input on broadcast standards in the previous year even than they had over the Iraq war."
Read Jeff McCall's recent

op-ed on the FCC and indecency by clicking here.
Brett O'Bannon, instructor of political science, was a guest on the March 19, 2004, Noon Edition. Read more, and access audio clips from the broadcast, here. Visit WFIU's Web site by clicking here.
Source: WFIU (Bloomington, Ind.)
Back