San Diego Union-Tribune Quotes Prof. Kevin Howley
April 24, 2004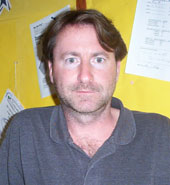 April 24, 2004, Greencastle, Ind. - "The strong public reaction to the various images 'underscores just how sanitized U.S. media coverage of the war has been,' said Kevin Howley, a communications professor at DePauw University in Indiana," states an article in today's San Diego Union-Tribune.
Dr. Howley's quote continues, "Around the world, graphic images are not uncommon and may help account for popular unrest and unease with the Iraq war. In this country, however, the mainstream press has done a very poor job indeed of communicating the human costs of war."
You can read the complete article, which is titled "Graphic images of war and its costs stir emotions," by clicking here.
Source: San Diego Union-Tribune
Back