Questions About Candidates Military Records "Important," Prof. Ken Bode Says on MSNBC's Deborah Norville Tonight
April 27, 2004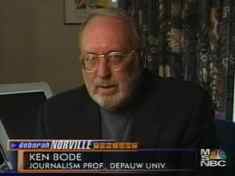 April 27, 2004, Greencastle, Ind. - The debate over John Kerry's opposition to the war in Vietnam and questions about President Bush's service in the National Guard are appropriate and will not go away anytime soon, Ken Bode, Eugene S. Pulliam Distinguished Professor of Journalism at DePauw University, said on the MSNBC program, Deborah Norville Tonight.
[DOWNLOAD VIDEO: "An Important Test" 888KB] "It's an important test and we're going to be talking about it. I think the problem that the Republicans will have with this is that the longer they talk about this issue, the more the American people are really going to make the comparison between Kerry's genuine service in wartime -- heroically in Vietnam in the brown water rivers -- and George Bush's service in the Texas Air National Guard, and whether or not he actually showed up to serve in Alabama."
Bode was joined on the program by former presidential adviser David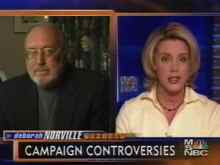 Gergen and Allan Lichtman, a history professor at American University. A satellite truck arrived on the DePauw campus Tuesday afternoon to beam an interview with Bode from the Administration Building back to the network's studios.
[DOWNLOAD VIDEO: "Relevant" 916KB] "These things are important and the press will talk about them," Dr. Bode added. "We were criticized in 2000 when the press brought up the drunken driving arrest of George W. Bush 24 years earlier. But it was an important issue to some people, because you can't say to someone whose daughter or son or even dog has been hit by a drunk driver that this is not something that the press ought to tell you about and ought to talk about."
The professor stated,
[DOWNLOAD VIDEO: "History" 916KB] "If you look back -- Dan Quayle, Al Gore, Dick Cheney, George Bush, John Kerry -- all of these people had a record on Vietnam
one way or the other, and it was a critical test of all of their characters ... how they served or did not serve."
The session also included comments from presidential adviser David Gergen, who delivered an Ubben Lecture at DePauw in 1998.
The segment is embedded below.
Dr. Bode is former senior political analyst for CNN. He hosted PBS's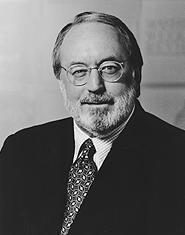 Washington Week in Review, and his political reports were seen for many years on NBC. The professor contributes weekly columns on his observations of the political landscape to the Indianapolis Star. Read the latest op-ed, and access other recent essays, by clicking here. Visit MSNBC's Web site by clicking here.
Source: MSNBC
Back