All-Campus Convocation May 4 Will Update Responsible Community Initiative
April 28, 2004
Visit Coalition for a Responsible Community Web Site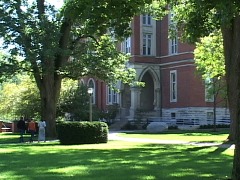 April 21, 2004, Greencastle, Ind. - "Our discussions over the past year about building a responsible community have yielded some very good results, and it's time we get together to celebrate our progress and talk about the future," says DePauw President Robert G. Bottoms. On Tuesday, May 4 at 4:30 p.m., all members of the DePauw community -- students, faculty members, administrators and alumni -- are invited to join Dr. Bottoms for a community convocation in Kresge Auditorium of the Performing Arts Center. At the session, which will be led by students, a year-end report will be presented on the Responsible Community initiative, and the new covenant will be discussed.
On March 4, 2003, Dr. Bottoms began what he called "a series of conversations" with students, faculty and staff members on the issues of alcohol abuse and related at-risk behaviors at DePauw,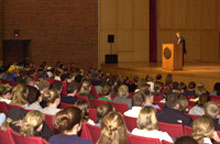 and stated his determination to develop a long-term effort to change the ethos of the campus community. The Coalition for a Responsible Community -- composed of alumni, faculty, students and administrators -- and its three task forces spent the past year developing a community covenant; working to develop a set of expectations defining the relationship between the University and the Greek community; and examining ways to support leadership among all student groups on campus.
"All three task forces have made great progress in the past year and we are excited to update the community on what we have been working on," says DePauw senior Tricia Cooksey.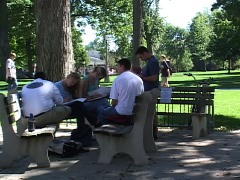 "I hope all students, faculty, and staff attend the convocation. It will be a great opportunity for members of our community to better understand the covenant, how we developed it, and what it means to each one of us. It will also be a time for us to remember what strides we have made in the past year in recognizing problems and addressing them."
Dr. Bottoms adds, "We have much to be proud of, and I look forward to getting together to celebrate the fruits of all the hard work. The covenant -- which was developed by students and will be signed by future students as they enter their first year at DePauw --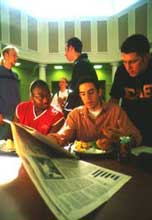 expresses the values that we hold and states what we expect of members of our community. While the covenant has been printed and talked about in the student media, and discussed in meetings of student organizations, there are still many who have not examined the document. The convocation will provide an opportunity for them to better understand what it entails."
Learn more about the Coalition for a Responsible Community by clicking here. Read about Dr. Bottoms March 2003 speech by clicking here, and a January 2004 update here.
Bucknell University's student newspaper wrote of DePauw's initiative. Read more here.
Back