John Kerry Has "Forfeited the High Ground" in Race for the White House, Prof. Ken Bode Writes
April 30, 2004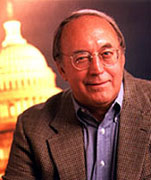 April 30, 2004, Greencastle, Ind. - "Take a moment's break on Saturday, a respite from the bad news pictures of the helicopter gunships and tanks firing on the mosque in Fallujah to remember the sweeter moments of a year ago," Ken Bode, Eugene S. Pulliam Distinguished Professor of Journalism at DePauw University, writes. In his weekly opinion column in the Indianapolis Star, Bode notes, "May 1 is the one-year anniversary of the famous landing on the carrier deck. Dressed in pilot togs, President Bush jogged over to the cameras to cheerfully declare an end to the worst fighting. So sad, how wrong he was."
The professor states, "what we have found out in the year since the president declared major combat finished is that ousting Saddam was on Bush's agenda all along; he just failed to mention it in the campaign of 2000." Democratic challenger John Kerry, however, "continues to quibble at the margins because he long ago gave up the larger issue. He adds to his growing reputation as a politician who can see both sides of any issue by continuing to nuance about Iraq. Even though the intelligence was faulty, it was worth going to war to get rid of Saddam, he says.

Planning for the aftermath of the war was faulty, says Kerry. Kerry cannot bring himself to say what needs to be said: That the intelligence about Saddam, Iraq and al-Qaida was exaggerated and manipulated to justify a preconceived set of notions."
Dr. Bode, former senior political analyst for CNN, opines, "Kerry cannot bring himself to say that the Bush administration took us into Iraq needlessly, and he, Kerry, made the mistake of his life in voting for it. Kerry has forfeited the high ground on what certainly should be the most important issue in the 2004 election." If Kerry chooses Richard Gephardt as his running mate, Bode recalls, "On the day President Bush announced the resolution to invade Iraq, Gephardt stood beside him posing for photographers in the White House rose garden. As leader of the Democrats in the House of Representatives, Gephardt gave Bush cover and made opposing the resolution more difficult for all of his colleagues. With Gephardt on the Democratic ticket, Ralph Nader's ad is easy to predict: 'Bush-Cheney. Kerry-Gephardt. Unanimous in support of our misguided war in Iraq. Not a dime's worth of difference. When will America learn?'"

Access the complete column at College News.org.
Ken Bode's essays appear each Friday on the Star's opinion page. Read his other recent contributions here, here, here, here, here, here, here, here, here, here, here and here. Bode also appeared this week on the MSNBC program, Deborah Norville Tonight. A story with video clips can be found here.
Source: Indianapolis Star
Back