Another Record! 2004 Relay For Life Raises $201,000
May 2, 2004
May 2, 2004, Greencastle, Ind. - "We're very much in awe, and incredibly grateful to everyone who had a hand in this year's event," says 2004 Putnam County Relay For Life chair and DePauw University senior Tricia Cooksey. The 24-hour fundraiser for the American Cancer Society wrapped up at noon today, as organizers announced that at least $201,000 has been raised, shattering last year's record-breaking total of $162,000. "Last-minute donations are still being tabulated. It's nothing short of incredible," Cooksey added.
Given that approximately 36,000 people live in Putnam County, the record total works out to almost $6 raised for every man, woman and child in the area. To put the magnitude of the achievement in perspective,
an Indianapolis fundraiser would have to bring in more than $5 million to be equally impactful.
This year's event had to be moved to the shelter of DePauw's indoor track and tennis center because of Saturday's rain, and the scheduled starting time of noon was pushed back one hour.
[DOWNLOAD AUDIO: "A Huge Year" 143KB] "This is going to be a huge year," Cooksey predicted moments before the fundraiser began. "The inclement weather has been a little bit of a downer, but the teams have come together," Cooksey added. "Everything's going well so far. The money coming in is amazing."
A record-setting 1,385 walkers
representing 124 teams from the DePauw and Putnam County communities took part in the 2004 event, which was initiated at DePauw in 1997 and has set new records each year. 2003 Putnam County Relay For Life raised more funds than any other college-run Relay in the USA except for the University of Georgia, which has an enrollment 15 times DePauw's 2,400 students. Putnam County Relay For Life, the oldest college-run Relay For Life in the nation, has seen phenomenal growth. In 1998, the event raised $20,000. The 1999 total of approximately $30,000 was eclipsed by 2000's $42,000. Then, 2001 brought in $80,000, followed by $127,000 in 2002.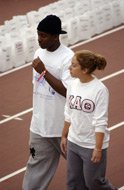 Last spring's event raised more than $162,000.
[DOWNLOAD AUDIO: "The Move" 124KB] "When we first came out here at 8 and 9 in the morning and it was absolutely pouring, we knew were going to have to move it in," co-chair Amanda Manning said Saturday afternoon. She and Cooksey had great praise for DePauw Dining Services and Physical Plant employees, who moved the entire set-up for the huge event into the indoor track and tennis center in only a few hours.
The American Cancer Society's Great Lakes Division awarded the 2003 Putnam County Relay its Heart of Relay Award for Diversity, which recognizes excellence in efforts to encourage participation by all members of the community. Putnam County Relay For Life was awarded the 2002 Heart of Relay Award for the Great Lakes Division, and the year before won the National Heart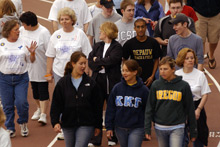 of Relay Award as the best college or university Relay in the USA.
[DOWNLOAD AUDIO: "Coming Together" 275KB] "Relay For Life really, truly is the event that brings Putnam County and DePauw together," says Manning, a DePauw senior. "It really is an event where there are no barriers -- all barriers are crossed, all barriers are down -- it's great to see the mixing of the two communities and people working together."
Back