Two Politically Active DePauw Students -- One a Candidate, the Other a Kerry Campaign Worker -- Profiled in Star
May 3, 2004
May 3, 2004, Greencastle, Ind. - "While other DePauw University seniors are looking for jobs, Eric Wolfe is searching for votes," begins a column in today's Indianapolis Star. "Though he's graduating this month, his highest priority is winning election as an Indiana state representative in the west-central Indiana district held by Republican Andrew Thomas. At the age of 22, Wolfe, a Democrat, is the youngest candidate running for an Indiana House or Senate seat this year. As a student running for the state legislature, he's an anomaly on any college campus, political observers say," writes the Star's Barb Berggoetz.
Wolfe, who is running unopposed in tomorrow's primary, appears in a color photo on the newspaper's front page. He says that as a young person, "I can really look at this from a fresh, new perspective. I'm going to put my whole heart in this." Berrgoetz adds, "The former intern for U.S. Sen. Evan Bayh, D-Indiana, eases through the crowd of some 100 townspeople at the community center, smiling and introducing himself without a sign of nervousness. Wolfe, a lifelong resident of Brazil, Indiana, isn't familiar to a lot of the people in the 61,000-person district that covers Putnam County and parts of Clay, Parke and Vigo counties.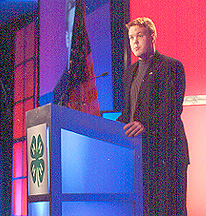 He knows that. So he plans on attending every forum, doing heavy neighborhood canvassing, organizing small fund-raising events, and maybe even sponsoring a benefit concert to raise $55,000. He even has a slogan: 'A New Generation for Indiana.'"
The story continues, "A communications major and youth leader in the 4-H Club, Wolfe said the legislature needs younger voices because a lot of issues, such as job creation, affect young people. 'If I want to raise my family here, the jobs aren't here,' Wolfe said at the community center. 'That's why I'm in the race. That's my top priority.'"
Another article in the same paper notes that this election year "has been a watershed for Chris Bannister. The 20-year-old sophomore at DePauw University walked into Democratic presidential candidate John Kerry's office in Des Moines, Iowa -- his hometown --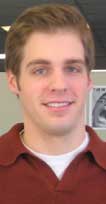 last January looking for an internship. What Bannister got was the political experience of a lifetime. He spent January through early March doing phone canvassing and voter database work, targeting areas in Iowa, New Mexico, Wisconsin and Ohio."
Bannister says, "It was an overwhelming, unbelievable experience. We were working 16 hours a day, seven days a week. It was tiring but absolutely worth it." The Star's Berggoetz points out, "Last semester, an international politics course whetted Bannister's political appetite, but his campaign work led him to decide to major in political science. He'll pick up his studies in the fall because he arrived over the weekend in Boston to assist the deputy director at the Democratic National Convention until early August."
Read the complete story on Eric Wolfe by clicking here, and access the Chris Bannister article here.
Back