Prof. Jeff McCall '76 Discusses Stern, Oprah and Broadcast Indecency on TV's O'Reilly Factor
May 5, 2004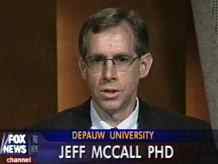 May 5, 2004, Greencastle, Ind. -

[DOWNLOAD VIDEO: "Context" 2600KB] "Context is everything," said Jeffrey McCall, professor of communication arts and sciences at DePauw University, on cable television's FOX News network tonight. Dr. McCall was a guest on The O'Reilly Factor, which examined why radio's Howard Stern has been fined for broadcast indecency by the Federal Communications Commission while a recent broadcast by Oprah Winfrey, which featured some graphic sexual discussion, has not been cited. Professor McCall was joined on the program by Tobe Berkovitz, associate dean of Boston University's School of Communications.
"The FCC issued a policy brief in 2001 that I think should really serve as a guide for us here," McCall, a 1976 graduate of DePauw, told the top-rated program. "In fact, an Oprah! program from the 1990s was used as an example of an opportunity to discuss mature material, but that was not considered to be indecent by the FCC. I think the big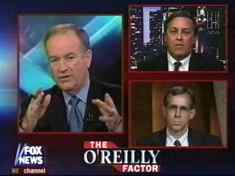 difference is context. Are we trying to discuss in a rational, sensible way mature issues, or are we trying to have a laugh, a big joke, and talk dirty like we're behind the middle school gym."
Stern, angry that the FCC has made him a target of its crackdown on indecency, is urging his listeners to complain about Oprah Winfrey. He claims her content is really no different from what he has been cited for.
McCall explained to FOX's Bill O'Reilly,

[DOWNLOAD VIDEO: "FCC Considerations" 1013KB] "When the FCC rules on indecency, they're considering several things. One is how graphic and explicit the material is; whether they dwell and repeat the offensive material; and also, whether the material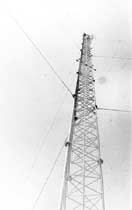 is intended to shock or pander. I don't think you could make any case that Oprah Winfrey is trying to shock or pander or that she's repeating and dwelling... it might be a little graphic, but I don't think it crosses that line in the same way that a Howard Stern program would."
Having said that, McCall added,

[DOWNLOAD VIDEO: "Issue Oriented" 665KB] "I agree that Oprah's program probably could have found more decorous ways to approach this subject. On the other hand, her program deals with a variety of social issues, and I think it's designed to be informative and educational for the kinds of people who watch Oprah's program."
Dr. McCall recently discussed the same issue on National Public Radio affilate WFIU in Bloomington, Indiana (read more and access audio clips here), and has been quoted widely in newspapers and on Web sites including the Columbus Dispatch, Kokomo Tribune and Wired News. He's also written two recent op-eds on the subject, accessible here and here.
Source: Fox News Channel
Back