Prof. Ken Bode Muses on the "Old Fashioned, High Drama" of Small Town Politics in Star Op-Ed
May 7, 2004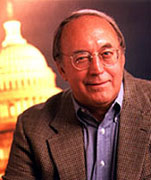 May 7, 2004, Greencastle, Ind. - "Election night in the Putnam County courthouse is a mix of gossip, neighborliness and high drama," writes Ken Bode, Eugene S. Pulliam Distinguished Professor of Journalism at DePauw University, in his weekly essay in the Indianapolis Star. "'I've been coming for 30 years,' said one citizen, 'Wouldn't miss it.' We watched, along with 200 or so citizens, outside the clerk's office. Two teenage boys scampered up and down a red ladder, posting vote totals on the wall-sized tote board."
Dr. Bode, former senior political analyst for CNN, provides a colorful snapshot of what happens in a small town as the votes are counted. "As results came in, the race for [circuit court] judge remained deadlocked all night. No television, no exit polls, just an election the old fashioned way, reports coming in precinct-by-precinct. Supporters gathered around the courthouse atrium, adding the totals on little calculators. It came down to the last precinct, the biggest in the county. As the votes went on the board, so did the cheers from the winners... By the time the full moon appeared, the tote board was full, the fun was over and citizens headed home. On the courthouse lawn, our war memorial, a V-1 German buzz bomb, was still aimed directly at the bank that John Dillinger robbed in 1934. Greencastle is Greencastle."

Read the complete column at the Star's Web site by clicking here.
Ken Bode's essays appear each Friday on the newspaper's opinion page. Read his other recent contributions here, here, here, here, here, here, here, here, here, here, here, here and here. Bode also appeared last week on the MSNBC program, Deborah Norville Tonight. A story with video clips can be found here.
Source: Indianapolis Star
Back