Indianapolis Star Writes of Six Seniors' Peace Corps Commitments
May 8, 2004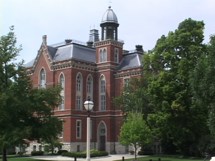 May 8, 2004, Greencastle, Ind. - "DePauw University grad Abby Kelly wasn't thinking about pay when she decided to join the Peace Corps," writes Barb Berggoetz in today's Indianapolis Star. "A 22-year-old from Columbus, Indiana ... she's spent the past four years at DePauw, a small private college in Greencastle. In August, she'll begin living in a poor, rural village in Niger, West Africa, in a hut with a thatched roof and mud walls -- and no electricity or running water."
Abby Kelly tells the newspaper, "I'm sure it will be difficult when I get there and realize I have to live like this for two years." Berggoetz writes, "But she's confident she can do it, especially since she lived in similar conditions during a research trip to Senegal, West Africa, last summer. 'I'm a little bit scared, but I'm way more excited than I am scared,' said Kelly, who has done service work in high school and college. As a health extension worker,
she'll be helping pregnant mothers and children and assisting villagers with planting and simple irrigation methods."
The article continues, "Kelly, one of six DePauw graduates who volunteered for the Peace Corps this year, looked for a job for a while. She'll graduate May 23 with a bachelor's degree in political science and French. Ultimately, she decided now is the right time to join before she starts her career and family. 'I'll only be 24 years old when I'm done -- there's so much time left.'"
Indiana applications to the Peace Corps are up 54% over last year, Berggoetz notes. "Pulling in big bucks isn't always the top priority when Indiana college graduates decide what path to take. And that's become truer in recent years, say college placement directors, as the economy has slipped and students have sought alternatives to the 9-to-5 grind.
In deciding their next step, more college graduates in recent years have been giving more weight to jobs that afford them better chances of advancing, developing new skills or providing challenges."
Read the complete article at the Star's Web site by clicking here.
Back