Creating Center to Fight for Access to Government Information "A Great Idea," Prof. Jeff McCall '76 Tells California Newspaper
May 8, 2004
May 8, 2004, Greencastle, Ind. - "Arguing that state and federal officials are increasingly restricting access to information, Associated Press President and CEO Tom Curley unveiled plans Friday for creating a media advocacy center in Washington, D.C., to fight for open government," begins an article in today's Press-Enterprise of Riverside, California. "Jeffrey McCall, who writes on media ethics as a professor at DePauw University in Indiana, called Curley's proposition 'a great idea.' McCall said there is no doubt government is restricting the release of information, especially when it is linked to national security. But he suggested organizers tread cautiously," writes Michael Fisher.
Dr. McCall, a 1976 graduate of DePauw, tells the newspaper, "If the media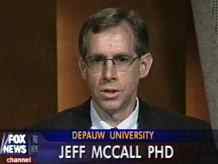 doesn't represent the public sentiment when they take on this initiative, they aren't going to get anywhere. The public will support open government up to the point where they think their security is at risk."
Read the article online by clicking here (a free registration is required).
Earlier this week, Jeff McCall was quoted in a story in Connecticut's Hartford Advocate, and appeared on FOX News network's O'Reilly Factor. Read what he had to say, and access video clips from the program, by clicking here.
Source: Riverside (Cal.) Press-Enterprise
Back