Prof. Ken Bode Reviews New Bush Biography in Boston Globe
May 9, 2004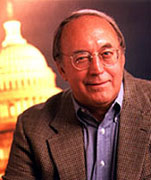 May 9, 2004, Greencastle, Ind. - In their new book, The Bushes: Portrait of a Dynasty, authors Peter Schweizer and Rochelle Schweizer "introduce the concept of 'soft power' to explain the amassing of wealth and position among the legions of Bushes, generation after generation," writes Ken Bode in today's Boston Globe. "From Andover to Yale to business to politics, soft power essentially means leveraging upward by trading on relationships, friendships, family money, and contacts. One thing the Schweizers demonstrate conclusively: It works," states the book review by Bode, Eugene S. Pulliam Distinguished Professor of Journalism at DePauw University.
"The reader sees the elder Bush as nonideological, steady and pragmatic, guided by his long experience," Dr. Bode continues. "In the aftermath of 9/11 and the Iraq war, family members see in the younger, less experienced president, George W., a commitment tinged with a sense of a divine calling, a religious war."
The professor deems Kevin Phillips' best-selling book, American Dynasty: Aristocracy, Fortune, and the Politics of Deceit in the House of Bush, "a deeper, more serious look at the moneyed roots of the Bush political dynasty. The Schweizers provide a chatty tour through family history on which you
learn things like the cost of Barbara Bush's inaugural outfit ($6,000 for the white wool coat, $10,000 for the mink jacket). If Phillips's book is a steak dinner, this is a ladies' lunch."
Access the complete review at the Globe's Web site by clicking here. Read about Ken Bode's most recent op-ed column for the Indianapolis Star here. Bode also appeared April 27 on the MSNBC program, Deborah Norville Tonight. A story with video clips can be found here.
Source: Boston Globe
Back