Barbara Kingsolver '77 Among Coalition Calling for Expansion of Endangered Species List
May 10, 2004

May 10, 2004, Greencastle, Ind. - Barbara Kingsolver, best-selling author and a 1977 graduate of DePauw University, is among a coalition of scientists, environmentalists and artists who are petitioning the Bush administration to have 225 plant and animal species placed on the endangered species list. Other members of the coalition include two-time Pulitzer Prize winner E.O. Wilson of Harvard University, National Academy of Sciences member Paul Ehrlich of Stanford University, former Poet Laureate Robert Hass and actor Martin Sheen.
"These magnificent species are at death's door," Kieran Suckling, executive director of the Center for Biological Diversity, tells Colorado's Rocky Mountain News. "If they are not protected soon, they will be lost forever." The Center filed the petition to protect the animals. CBS News.com points out that "the species are not new to the US Fish and Wildlife Service; four-fifths have been on the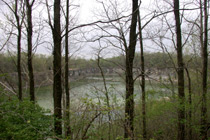 agency's waiting list for a decade. Some have been waiting since 1975. The average is 17 years."
The News' Gary Gerhardt writes, "According to Suckling, the Clinton administration placed 65 species per year on the endangered list, Bush's father's administration averaged 59, and Ronald Reagan, 32. But the current Bush administration has listed just nine per year, the least in the history of the Endangered Species Act." Read more by clicking here and here.
Barbara Kingsolver is the best-selling author of The Poisonwood Bible, Prodigal Summer, The Bean Trees, and Last Stand: America's Virgin Lands, a collaboration with National Geographic photographer Annie Griffiths Belt.

"This is an important moment in our history," the author told National Geographic.com in November 2002. "We are smart enough to realize there are plenty of jobs in finding new ways to recycle things, new energy sources, and sustainable use of resources. If we're smart, we can do that before everything is gone. If not -- if the tractor keeps rolling -- then it will all be gone. Then we'll have to change. I have a lot of hope. I think our kids will save us. Policy changes happen from the ground up…[and] 80 percent of Americans declare in poll after poll that the environment is an important priority. I have no doubt that things will change."
Back