Republican War Worries Mounting, Prof. Ken Bode Writes in Weekly Op-Ed
May 14, 2004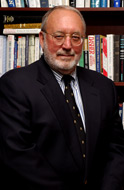 May 14, 2004, Greencastle, Ind. - Prominent Republicans -- including George Will, Robert Kagan and David Brooks -- are raising questions about the problems at the Abu Ghraib prison and the war in Iraq, notes Ken Bode, Eugene S. Pulliam Distinguished Professor of Journalism, in today's Indianapolis Star. Kagan stated, "All but the most blindly devoted Bush supporters can see that Bush administration officials have no clue about what to do in Iraq tomorrow, much less a month from now." Dr. Bode writes, "These are serious, smart Republicans who see in the prison scandal and mounting casualty reports a realization that Iraq is going very badly even if Bush, Dick Cheney and Donald Rumsfeld won't admit it."
Bode's weekly op-ed continues, "'The system is working,' [Secretary of Defense] Rumsfeld told the Armed Services Committee, meaning that the military would punish the miscreants responsible for the horrifying photographs that now represent America's liberation

of Iraq in much of the world. But the system would not have worked if Rumsfeld had his way. When it learned that 60 Minutes II planned to broadcast the photos, the Pentagon asked CBS to hold off, that the photos might endanger American hostages ... Were it not for an uncompromising reporter, the investigation that began in January and still had not made its way to Rumsfeld's desk, would still be a secret."
Former senior political analyst at CNN, Professor Bode suggests a Republican U.S. Senator could be the wild card in how recent events play out in the November election. "Another veteran angry about the way the war has been bungled is John McCain, who keeps a brick from the Hanoi Hilton in his Senate office as a souvenir of his own days as a prisoner of war. One day soon his friend John Kerry will tell McCain, 'John, I have to know. With you on the ticket we will win.' Then McCain will face the biggest decision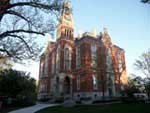 of his life. To serve party or country. To be or not to be John Kerry's running mate."
Read the complete column at College News.org.
Ken Bode's essays appear each Friday on the newspaper's opinion page. Read his other recent contributions here, here, here, here, here, here and here.
Source: Indianapolis Star
Back