Is Reality TV Desensitizing Americans? Prof. Jonathan Nichols-Pethick Discusses Iraqi Prisoner Abuse on MSNBC
May 17, 2004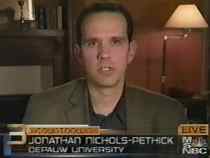 May 17, 2004, Greencastle, Ind. -
[DOWNLOAD VIDEO: "Public Humiliation" 1200KB] "Reality television, which we often associate with this coarsening of television, is part of a larger media environment that capitalizes on the routine documentation of all sorts of behaviors, from humiliation... in terms of scandalous behavior and even tragic behavior," said Jonathan Nichols-Pethick, instructor of communication arts and sciences at DePauw University, on MSNBC tonight. Nichols-Pethick appeared on Countdown with Keith Olbermann to discuss the story of prisoner abuse from Iraq and whether, in the host's words, "the active popular public humiliation seen in the reality shows like Jackass and Fear Factor is entertaining, and because it is entertaining that on some level it becomes acceptable."
The professor, who first commented on this issue in the May 13 San Diego Union-Tribune (read more here), told Olbermann's national audience there is no way to directly
link the treatment of Iraqi prisoners with the coarsening of television and the media in recent years. But, he says, "reality TV is one part of this environment and it affords us a range of pleasures from the voyeuristic pleasure of seeing people humiliated and put in frightening situations."
Nichols-Pethick noted the recent statements of Private Lynndie England, an Army Reservist who was stationed at the prison and who is seen in one photo holding a leash attached to a detainee's neck.
[DOWNLOAD VIDEO: "Not Seeing Consequences" 1500KB] "She talks about the fact that it was just fun and they were having fun and pictures were taken. She talks about fooling around. She talks about also not going to extremes. And I think if there is a connection to be made, it's this idea that this situation was somehow a controlled situation, that they didn't feel that they were going to extremes in this behavior, even though we can see plainly that they were. And so, in terms of their attitudes about their behavior, I think it really is just a matter of not seeing the consequences, because this was just seen as fun behavior. And I think we can, again, not draw a direct line,
but certainly it's part of the environment."
Olbermann asked his DePauw guest if he is troubled by polls that indicate one-quarter of Americans were not disturbed by the prison photos.
[DOWNLOAD VIDEO: "Encouraging" 1300KB] "I think, you know, there's always going to be people who take some pleasure in other people's pain," Nichols-Pethick said. "I'm actually quite encouraged by the fact that 75 percent of the people are outraged by this. I think this actually demonstrates that there is a lack of control in these images. And if the Bush administration has been trying to control this war from the outset through positive images, there is an indication that they're not in total control of this. And I'm proud that people are outraged by this. And it tells me that we aren't desensitized to the extent that we fear that we might be."
Access a transcript of the program by clicking here. The segment is embedded below.
Jonathan Nichols-Pethick is the third DePauw professor to appear on a national cable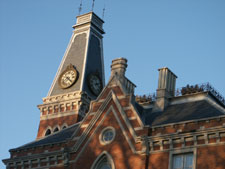 television program in the last month. On May 5, Jeffrey McCall, professor of communication arts and sciences, was a guest on FOX News' The O'Reilly Factor (access a story with video clips by clicking here). Ken Bode, Eugene S. Pulliam Distinguished Professor of Journalism, appeared on the MSNBC program Deborah Norville Tonight April 27. Read about that, and access clips of the show, by clicking here.
Source: MSNBC
Back