Political Leaders Can Learn Key Lessons from the 'Creative Class,' Prof. Ken Bode Writes
May 21, 2004
May 21, 2004, Greencastle, Ind. - Ken Bode, Eugene S. Pulliam Distinguished Professor of Journalism at DePauw University, writes about Richard Florida's The Rise of the Creative Class in today's Indianapolis Star, noting the book "will soon become the handbook for public officials" who face challenges in attracting and keeping high-paying jobs and the educated workers needed to fill them. Dr. Bode states, "Florida is a combination economist, sociologist and demographer. He studies the elements that enable cities and states to cope successfully with transitional economies. In other words, at a time when metropolitan regions all over the country are hemorrhaging manufacturing jobs and seeking high-tech replacements, Florida prescribes the causes of failure and the prospects of success."
The professor says the book should be "required summer reading" for Indiana's gubernatorial candidates. "Among the 49 U.S. metropolitan regions with populations of more than 1 million, Florida examines those that have best managed diversification toward technology industries. The single best indicator of success is the existence of what he calls a 'creative class:' a fast-growing, highly educated and well-paid segment of the work force on whose efforts corporate profits and economic growth increasingly depend."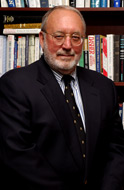 Bode continues, "The creative class consists of scientists, engineers, university professors, artists, entertainers, designers and architects, think-tank researchers, analysts. These creative professionals work in knowledge-intensive industries and can pretty much choose where they want to locate. They are the national equivalent of educated Hoosiers leaving in our college brain drain," the former senior political analyst at CNN writes. "The creative class works in technology, finance, entertainment, journalism, high-end manufacturing and the arts. What they have in common is a common ethos that values creativity, individuality and merit."
Access Bode's column online at College News.org.
Ken Bode's essays appear each Friday in the Star's opinion page. Read his other recent contributions here, here, here, here, here, here, here and here.
Source: Indianapolis Star
Back