Rain Chance Now 50% for Commencement Day
May 21, 2004
BULLETIN: Commencement Moved Indoors
Visit the Commencement Information Page; Five to Receive Honorary Degrees; Pre-Order Your Commencement DVD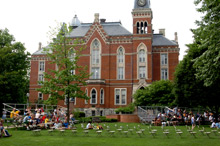 May 21, 2004, Greencastle, Ind. - Sunny skies and humid conditions greeted DePauw's Class of 2004 as they gathered on East College lawn this morning for a run-through of Sunday's 165th annual commencement. More than 500 students will receive degrees at the ceremony, which is set to begin at 1 p.m. on the grounds of the historic 19th century building. In the event of inclement weather, the proceedings will be moved indoors to the Lilly Center. (BULLETIN UPDATE: Commencement Moved Indoors; read more here)
As graduates prepare for their big day, the weather forecast is increasingly a concern. It now calls for a 50% chance of scattered strong thunderstorms Sunday with a high temperature of 86 degrees. For the very latest on the weather, click here.
Should Sunday's event be moved inside, tickets will be required for admission; those without tickets (which were given to all graduates) can watch via closed-circuit television in the air conditioned comfort of Kresge Auditorium.
The 165th commencement will feature an address by DePauw's all-time leader in games won by a football coach, Nick Mourouzis, who retired at the conclusion of the 2003 season (read more here). Five individuals will receive honorary degrees: Saad Eddin Ibrahim - Doctor of Humanities; Mary Patterson McPherson - Doctor of Letters; Ferid Murad '58 - Doctor of Science; Steven W. Sanger '68 - Doctor of Letters; and Orlando L. Taylor - Doctor of Pedagogy. Read more about the recipients in this story.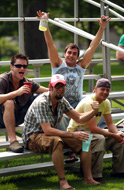 A complete schedule of commencement weekend activities is available online by clicking here. A DVD of commencement will again be produced this year as a permanent keepsake for graduates and their families. Features include chapter stops for each letter of the alphabet so you can access your graduate's walk across the stage quickly. For information on pre-ordering the DVD, which is $25 for the first copy and $10 for each additional disc mailed to the same address, click here.
Keep an eye on this site for updates Sunday, as well as comprehensive coverage of commencement -- including video and audio clips -- which should begin appearing by late afternoon.
Back