DePauw's Posse Participation Noted in Article
May 21, 2004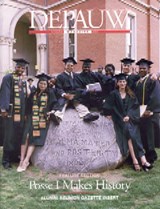 May 21, 2004, Greencastle, Ind. - "Posse's other 19 university partners are all rated in the top 10 percent of universities in the nation," states an AScribe Newswire story on Grinnell College's new partnership with the Posse Foundation's Washington, D.C. program. DePauw University, a Posse partner since 1996, is listed among the top-tier colleges and universities that bring Posses to their campuses.
The Posse Foundation, a New York City-based student leadership and admissions initiative, recruits multi-racial and multicultural students from public high schools in some of the nation's largest cities. The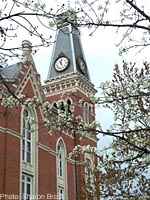 foundation provides a pre-college orientation and support system that enables these young people to attend and successfully graduate from some of the nation's finest liberal arts institutions. DePauw welcomes two posses annually -- 10 students from New York City and another 10 from Chicago.
Read the article online by clicking here. The Lumina Foundation wrote a lengthy feature on DePauw's Posse success. Learn more by clicking here.
(top image, of DePauw's first Posse graduates, by Marilyn E. Culler)
Back