Retired Coach Nick Mourouzis Presents One Final Pep Talk to Class of 2004
May 23, 2004
Also: Video of Complete Address; More Commencement Coverage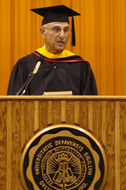 May 23, 2004, Greencastle, Ind. -

[DOWNLOAD VIDEO: "Tiger Pride" 906KB] "'Tiger Pride' is a personal commitment to excellence in anything you do," Nick Mourouzis, who guided the DePauw Tiger football program for 23 seasons, told the Class of 2004 as he delivered the address at today's 165th commencement. "Coach Nick" called on the 522 graduates to have "Tiger Pride in whatever you choose to do with your life. Because, when you leave here today, you'll be getting yourself ready to play the biggest game of all: the game of life."
Mourouzis took the head coaching job at DePauw in 1981 and led the Tigers to a 138-87-4 record before retiring at the end of the 2003 season. T
he professor of kinesiology was selected by graduating seniors to be their commencement speaker.

[DOWNLOAD AUDIO: "Overcoming Obstacles" 312KB] "Your future is going to be a combination of successes and setbacks," Mourouzis told the Class of 2004. "There will be times when things go well and there'll be times when you're feeling like nothing is working for you. You will have to learn from the mistakes you make, turning negatives into positives and using them as stepping stones to the future. Overcoming obstacles and failures is a significant part of becoming successful."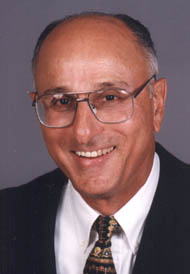 Before coming to DePauw, Mourouzis was an assistant coach at Northwestern, Indiana, Ball State and Ohio Universities. He was named the Southern Collegiate Athletic Conference Coach of the Year in 2000 after leading the Tigers to a three-way share of the league title. Mourouzis was named the Indiana Collegiate Athletic Conference Coach of the Year in 1996 and 1990. In February 2001, Mourouzis earned the Distinguished American Award from the central Indiana chapter of the National Football Foundation for his lifetime commitment to football and for making significant contributions toward bettering amateur football in the United States. Last year, he was inducted into Miami's Cradle of Coaches earlier this year, joining legendary coaches such as Weeb Ewbank, Paul Brown, Ara Parseghian, Bill Mallory, Walter Alston and Woody Hayes.
�Coach Nick� is also the founder of Chi Alpha Sigma, the nation's first collegiate scholar-athlete honor society, which is
represented at more than 96 colleges and universities in 32 states.
Mourouzis praised the many DePauw students who take part in extracurricular activities, be they student-athletes, or among the more than 60% of students who take part in community service projects.

[DOWNLOAD AUDIO: "The DePauw Family" 226KB] "Your work ethic, time management and organizational skills are to be commended. Each of you has made the DePauw community a better place to be. All of you are very special, not only to your own families, but to the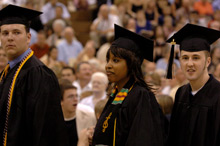 DePauw family and we're proud of your accomplishments."
His advice to the young graduates is not unlike the pep talks he offered several generations of football players.

[DOWNLOAD AUDIO: "DePauw Never Quits" 229KB] "Be persistent. 'DePauw never quits' is the motto of our athletic department. Despite the best conditioning, long hours and positive work ethic of DePauw athletes, our teams do lose contests. But the athletes persist. Success does come again.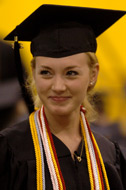 That's Tiger Pride."
When it comes to choosing a profession, Mourouzis offered,

[DOWNLOAD VIDEO: "Work-Hobby" 654KB] "If you have passion and pride for what you do, you will always love your life's work. I always told my players that if you find a job or a career that you like so well like it's a hobby to you, then you'll never have to work a day in your life." The coach stressed, however, "there is no substitute for hard work." Attitude is also key. "It's not just the way you think, it's the way you live... Everything leading to success begins with your attitude," Mourouzis stated, adding character, integrity and honesty as traits that graduates should embrace and nurture.
DePauw awarded 485 Bachelor of Arts degrees and 37 music degrees at today's ceremony, which was moved indoors to the Lilly Center because of inclement weather. Read more about the 165th commencement by clicking here.
Back