Five Distinguished Individuals -- Including Two Alumni and a Former DePauw Professor -- Receive Honorary Degrees
May 23, 2004
May 23, 2004, Greencastle, Ind. - Stephen W. Sanger, chairman and CEO of General Mills, Inc., remembers when he graduated from DePauw in 1968. It was a rainy May day, and as he received an honorary Doctor of Letters degree from his alma mater on another wet May afternoon 36 years later, Sanger said he regrets that he didn't do some things on his commencement day. He urged graduates to

[DOWNLOAD VIDEO: "Stephen Withrow Sanger" 1700KB] "find a professor or adviser who has really made a difference in your life here and tell them so and thank them for all they've given you. Second, congratulate your parents, grandparents, aunts and uncles, or whoever it is that made sacrifices to help you get here today."
Sanger continued, "And then lastly, find a classmate whose friendship has been important to your experience at DePauw and tell them how important they've been. And make a pact with that person that your friendship and your commitment to DePauw will last forever. You may have another chance to do those things, 20 or 30 or 36 years from now, but take it from me, these are things that are best done today."
The co-recipient of the 1998 Nobel Prize in Physiology or Medicine and a 1958 graduate of DePauw University, Ferid Murad received an honorary Doctor of Science degree today. He urged the new graduates to be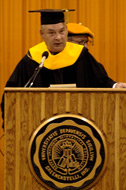 "passionate and persistent," adding,

[DOWNLOAD VIDEO:"Ferid Murad" 1200KB] "Be determined about your career choices, whatever they are. Don't be up there afraid to take risks. Don't be afraid to make mistakes, we all make mistakes. Learn by them. Most importantly, do whatever you can in the careers that you choose, to do the best that you can. Leave a big footprint behind that helps others and enhances their quality of life." Dr. Murad is director of the Institute of Molecular Medicine at the University of Texas Medical School at Houston, and serves as chairman of the university's department of integrative biology and pharmacology.

[DOWNLOAD VIDEO: "Saad Eddin Ibrahim" 794KB] "It is an overwhelming moment for me to be back here after so many years of being away. And as the saying goes, 'You can get out of DePauw, but DePauw can never get out of you'," said pro-democracy activist and former
DePauw University professor Saad Eddin Ibrahim as he accepted an honorary Doctor of Humanities degree. Ibrahim taught sociology at DePauw from 1967 to 1974.
In 1988, he founded the Ibn Khaldun Center for Development Studies at the American University of Cairo, creating one of the few independent research institutions in the Arab world. But on June 30, 2000, Professor Ibrahim was arrested in Cairo, shortly after he published a sarcastic critique of the possibility that Egypt's president, Hosni Mubarak, would seek to install his son Gamal as his successor. Ibrahim was subsequently convicted and imprisoned, drawing worldwide attention and condemnation. In 2003, Egypt's highest appeals court reversed the conviction. He has since reopened the Ibn Khaldun Center.

[DOWNLOAD AUDIO: "Activism" 155KB] "Activism means compassion, a belief that you can change the world," Professor Ibrahim told the Class of 2004. "No matter how difficult obstacles are, if you are determined, believe me, you can make a difference."
A pioneering national figure in the field of linguistics, Orlando L. Taylor accepted an honorary Doctor of Pedagogy degree. Currently vice provost for research, dean of the graduate school and professor of communications at Howard
University, Taylor accepted

[DOWNLOAD VIDEO: "Orlando L. Taylor" 2000KB]"this high honor, first of all, in the memory of Dr. Percy Julian, a distinguished, world renowned son of DePauw, among its earliest African-American graduates and former professor and department chair of chemistry at Howard University, my current academic home. I accept it also in the name of the hundreds of graduate students who have given me an opportunity to write my signature upon their minds and who have taught me on their journey to become the next generation of college and university professors. And I sincerely hope, in this audience today among the graduates, that many of you will pursue your own journeys and become the next generation of college and university faculty members."
Dean Taylor is a national leader in graduate education and within his discipline. Dean His pioneering work in the fields of communication disorders, sociolinguistics, educational linguistics and intercultural communication has led to the development of new theories and applications.
Mary Patterson McPherson, president emeritus of Bryn Mawr College and vice president of The Andrew W. Mellon Foundation, received an honorary Doctor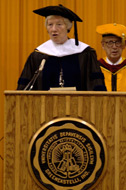 of Letters degree.

[DOWNLOAD VIDEO: "Mary Patterson McPherson" 2068KB] "We will need the best and deepest thinking to sort out the role of our country in this post-Cold War period, a thinking that goes well beyond the rhetoric of political parties. Your generation has been better prepared than most for this task of thoughtful citizenship," she told DePauw's graduates. "You have been taught here about respecting and learning to understand people different from yourselves. Learning to appreciate other religions, languages, traditions and values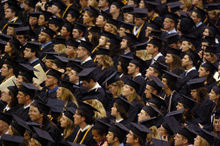 has been a central part of your education. Many of you have participated in programs that've had you living and working in other countries and on other continents, and you have been taught that with the privileges of education come certain obligations to, and responsibilities for, the world beyond ourselves. After today it gets real, but you have been readied, I think, for prime time."
In ceremonies that were moved indoors to the Lilly Center because of stormy weather in Greencastle, DePauw awarded 485 Bachelor of Arts degrees and 37 music degrees today. Read more about the 165th commencement by clicking here.
Back