President Robert G. Bottoms Named a 'Posse Star' at NYC Gala
May 26, 2004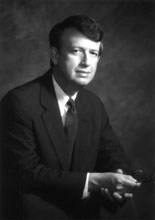 May 26, 2004, Greencastle, Ind. - Robert G. Bottoms, DePauw University's 18th President, will be one of three individuals honored tonight in New York City as "Posse Stars" by the Posse Foundation. Each year at its gala, the Foundation honors "Stars" -- a member of the community, a Posse partner college president, and a Posse alum -- who have made a difference in the field of education. U.S. Congressman Charles Rangel of New York and Monique Nelson Butts of Motorola will be honored along with Dr. Bottoms at the gala, to be held at the Metropolitan Pavilion, 125 West 18th Street. Lesley Stahl of CBS' 60 Minutes will emcee the event.
The Posse Foundation identifies public high school students with extraordinary academic and leadership potential, who may be overlooked by the traditional college selection process. The Foundation extends to these students the opportunity to pursue personal achievement and academic excellence by placing them in supportive, multi-cultural teams ("posses") of 10 students. The Foundation's partner universities acknowledge Posse Scholars by awarding them four-year, full-tuition, leadership scholarships. DePauw hosts two Posses each year -- one from New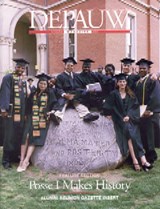 York City and the other from Chicago -- and has been a Posse partner since 1996.
Read the Posse announcement by clicking here.
The Lumina Foundation wrote a lengthy feature on DePauw's Posse success. Dr. Bottoms told the Foundation, "Our faculty really like having Posse students in their classes. These students are leaders, trained to take an active role and make an impact on campus. In fact, the [2002-03] president of our student body [Edmond Krasniqi '03] is a Posse student who probably wouldn't have found his way to DePauw if it weren't for the program." (bottom image, of DePauw's first Posse graduates, by Marilyn E. Culler)
Learn more by clicking here.
Back