Slate: Lee Hamilton '52 on Kerry's "Long Shortlist"
May 31, 2004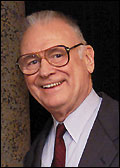 May 31, 2004, Greencastle, Ind. - In selecting a running mate, presumptive Democratic presidential nominee John Kerry "could go for a policy-wonk father figure who understands today's global dangers as Bush did in choosing Cheney last time," writes Michael Crowley in Slate. Among the potential candidates Crowley lists is "former Indiana Rep. Lee Hamilton, now the nobly nonpartisan vice chairman of the independent September 11 commission." Hamilton is a 1952 graduate of DePauw University. Read the complete article, "John Kerry's Long Shortlist," by clicking here.
Conjecture about Lee Hamilton being tapped by John Kerry was included in an article last month by Albert Eisele in The Hill. In the newspaper, which bills itself as being "for and about the U.S. Congress," Eisele opined that Hamilton "is admittedly a bit long in the tooth at 73, but his 12 terms in the House and his experience as chairman of the Select Committee on Intelligence, on the select committee investigating the Iran-contra scandal and now as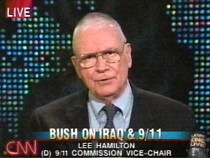 vice-chairman of the September 11 commission, give him gold-plated credentials on foreign policy and national security issues." Read more by clicking here.
Lee Hamilton, who served for thirty-four years as a United States Congressman from Indiana, serving as chairman and ranking member of the House Committee on Foreign Affairs, is now director of the Woodrow Wilson International Center for Scholars in Washington, D.C.
He appeared on Larry King Live April 13 to discuss the 9/11 commission's work. Access video clips here.
Back