Video by Prof. Kevin Howley Airs on National Satellite Network
June 1, 2004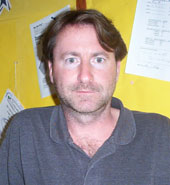 June 1, 2004, Greencastle, Ind. - Victory at Sea? Culture Jamming Dubya, a video by Kevin Howley, assistant professor of communication arts and sciences at DePauw University, was aired yesterday by Free Speech TV. The 54-minute program features Bernard Batto, professor of religious studies; Dave Bohmer, director of the Eugene S. Pulliam for Contemporary Media and the Media Fellows program; and Jonathan Nichols-Pethick, instructor of communication arts and sciences. It was produced through the facilities at the Pulliam Center.
A synopsis on the network's Web site states: "On May 1, 2003, George W. Bush declared victory in Iraq from aboard the flight deck of the USS Abraham Lincoln. This video analyzes the president's speech and the image-making apparatus deployed in constructing this media event. Contributors provide a 'running commentary' on the president¹s remarks, contradicting his claims for justifying the Iraqi invasion, challenging his... intentions, and revealing the role mainstream media played in promoting the war effort.
A sly bit of 'culture jamming', the tape uses media images and texts to challenge and subvert the president's 'victory' speech."
Free Speech TV is available in over 17 million US homes -- airing 24 hours a day on DISH Network channel 9415 and part-time on 108 community access cable stations in 28 states. Visit it online by clicking here.
Back