New Book by Stephen F. Hayes '93 Examines the Saddam-al Qaeda Connection
June 1, 2004
June 1, 2004, Greencastle, Ind. - The Connection: How al Qaeda's Collaboration with Saddam Hussein Has Endangered America, by Stephen F. Hayes, a 1993 graduate of DePauw University, arrives in bookstores across America today. Hayes, who writes for the Weekly Standard, "draws on top-secret intelligence documents and interviews with high-ranking Bush and Clinton administration officials to uncover new information about how America's deadliest opponents worked together -- a relationship that stretches back more than a decade and that may include collaboration on terrorist acts, chemical weapons training, and sheltering some of the world's most wanted radicals," a synopsis of the book states. "Hayes describes what those links mean for the United States and examines why politicians, journalists, and intelligence experts -- even in the face of mounting evidence of a Saddam-bin Laden collaboration -- have shown themselves to be dangerously incurious."
Writing in the online edition of the National Review today, Andrew C. McCarthy calls Hayes' book "praiseworthy journalism" and "assiduous detective work," noting that Hayes "has been investigating and writing about the links for months. Hayes's new book, The Connection, is being released today. It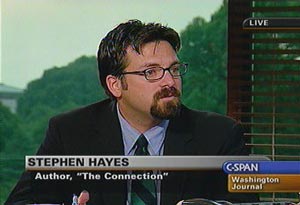 comprehensively lays out a mosaic of operational ties, and questions that Americans, far from brushing aside, should be demanding answers to." Read more by clicking here.
Stephen Hayes will appear tomorrow (Wednesday) night on FOX News' O'Reilly Factor and MSNBC's Scarborough Country to discuss his latest work. Learn more about The Connection at Amazon.com and Barnes & Noble.com. Read Stephen Hayes' latest article in the Weekly Standard by clicking here.
Back