One Person, One Vote? Prof. Ken Bode Says, Don't Count on It
June 4, 2004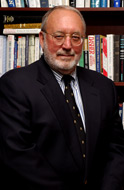 June 4, 2004, Greencastle, Ind. - "Americans tend to shrug off election fraud as quaint and historic, and most of the old abuses are," writes Ken Bode, Eugene S. Pulliam Dustinguished Professor of Journalism at DePauw University, in today's Indianapolis Star. Bode, former senior political analyst at CNN, argues in his weekly op-ed column that new electronic voting devices create new opportunities for election fraud.
"Matt Cincuilli, a Democratic precinct captain in Philadelphia, had Lois Lane, Lyndon Johnson, Elizabeth Taylor and dozens of others registered at the same address, his corner grocery. This civic excess earned Cincuilli a visit to Allenwood Penitentiary," Dr. Bode writes. "Ambitious as he was, Cincuilli's offense was basically retail theft compared to what could be accomplished if hackers can get into the new electronic software. Compounding that possibility is the fact that most of the new machines provide no voter-verified paper record, no way to check or correct an error... or fraud."
The professor notes, "This fall, one in five Americans will vote on touch-screen machines." Yet, Bode says, the systems appear to be less than failsafe. "Maryland election officials hired hackers to see if they could steal an election. They quickly figured out how to cast multiple votes and to rig the system's vote-counting mechanism... Imagine the possibilities if hackers were able to attach a keyboard to the voting terminal and change the vote count, or by finding a flaw in the software and using a modem they could change votes from a remote location.

That is exactly what happened in the Maryland electronic security test. Using the most modern technology, vote fraud can now be truly wholesale."
Read the complete column at College News.org. Access other recent Ken Bode essays here, here, here, here, here, here, here and here.
Source: Indianapolis Star
Back