New Housing Option Will Help Accommodate Larger Than Expected Incoming Class
June 9, 2004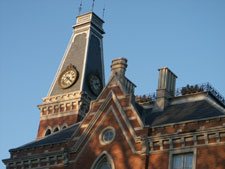 June 7, 2004, Greencastle, Ind. - With an incoming class of 696 students set to converge upon Greencastle in August, DePauw University administrators and staff are working hard to prepare for the larger than expected group. "We have a nice problem and we're coming up with terrific solutions to it," says James L. Lincoln, vice president for student services. DePauw had expected to enroll a new class of 630. "We've faced challenges like this before -- namely, two summers ago after the fire at Rector Hall forced us to move quickly to build duplexes (read more here and here). I think the new students will like what they see when they arrive."
The University has purchased the former Alpha Omicron Pi house at the corner of Bloomington and Anderson Streets and will use the building to house 48 first year students this fall. AOPi last had an active chapter at DePauw four years ago. "We're committed to giving all incoming students comfortable accomodations, and the size of incoming class was certainly going to strain our existing housing supply," says Dorian Shager, director of housing and assistant dean of students. "The purchase of this building allows us to meet our needs this year and be more flexible
in the future, and puts a vacant building that has strong connections with many alumni back in use," he added. (photo at right by Abby Tonsing '02)
DePauw is also upgrading Hogate Hall, another residence hall for freshmen. The building has been closed for the summer as workers install new carpeting in all the rooms and hallways. In addition, the building will be getting new furniture and the heating/air conditioning is being replaced.
When the results of the admission season were announced in early May (read more here), Madeleine Eagon, vice president for admission and financial aid at DePauw noted, "It's simply overwhelming, and quite wonderful. For the first time in six years, we did not set a new record for the number of applications received, yet the number of students who've accepted our offer of admission to DePauw is close to an all-time high," Eagon says. "That indicates that DePauw is increasingly the top choice of applicants, and the students who are coming in the fall are among the best and brightest we've ever enrolled."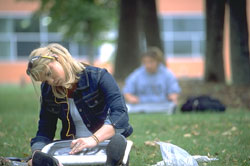 The incoming Class of 2008 has a median 3.69 grade point average, a 1230 SAT and 27 ACT and the students' median rank is the top 10% of their high school class. The new undergraduates will be coming from 36 states and 6 countries.
DePauw University is ranked in the top tier of the nation's liberal arts colleges by U.S. News & World Report (read more here). Prospective students can learn more about DePauw by clicking here.
Back