Prof. Ken Bode Remembers His "Worst Day as a Journalist," When Ronald Reagan Was Shot
June 11, 2004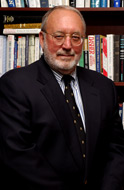 June 11, 2004, Greencastle, Ind. - While many Americans have memories of the day former President Ronald Reagan was shot, Ken Bode, Eugene S. Pulliam Distinguished Professor of Journalism at DePauw University, was breaking the story. Bode was NBC's national political correspondent on March 30, 1981, which also happened to be Bode's birthday. He was having lunch across the street from George Washington Hospital, where he later planned to visit a friend, "when the sirens began."
Writing in today's Indianapolis Star, Dr. Bode states, "In this time of remembrances, one day stands out most vividly, the one that transformed Mr. Reagan's presidency and also nearly ended it."
In his essay, Bode remembers seeing a bullet hole and splintered glass in the presidential limousine, "It filled me with dread. Literally I lost my breath. I will never forget the moment I learned that John F. Kennedy had been killed. My memory flashed to Parkland Memorial Hospital in Dallas, and momentarily my head swam. But as a journalist, I knew I might have stumbled into a presidential assassination." Bode entered the hospital, and goes on to describe how he learned Reagan had indeed been hit by a bullet, when the White House press office was telling the media that the president had not been wounded.
"Whenever I'm asked, 'What was your worst day as a journalist?' I have no trouble coming up with an answer. Also, like many Americans, I never saw President Reagan quite the same again. As someone said at the time, he went into the hospital as Ronald Reagan; he came out as John Wayne," Bode writes.
Read the entire column at College News.org. Access other recent Ken Bode essays here, here, here, here, here, here, here and here.
Source: Indianapolis Star
Back