Prof. Ken Bode Examines Two Bush Biographies in Weekly Op-Ed
June 25, 2004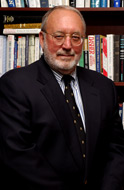 June 25, 2004, Greencastle, Ind. - "The next two weeks will be wall-to-wall promotion of the Bill Clinton autobiography, My Life. For those seeking other suggestions for summer reading, I will offer two on George W. Bush today, and two on John Kerry next week," begins Ken Bode's weekly op-ed in the Indianapolis Star. In today's paper, Bode, Eugene S. Pulliam Distinguished Professor of Journalism at DePauw University, writes, "These are neither polemics nor high-policy tomes. I've chosen them for voters who want to know the basics about their presidential choice: Who is this guy? What's his story? Both sides."
In Dr. Bode's assessment, The Bushes: Portrait of a Dynasty, by Peter and Rochelle Schweizer, "is essentially a book by the family, about the family, with wide family sources... As biography, it is a valentine to the Bush family. However, it also is strewn with facts that will satisfy more critical readers ... This is not the most detailed biography of George W. Bush's early years, but it conveys the best understanding of his

role in the family, relationships with his mother and father, and especially the father's influence on the son's goals. For those interested in the president's faith and its influence on policy, this is instructive."
On the other hand, Frank Bruni's Ambling Into History "is a vividly descriptive portrait of the candidate, at ease, joking with supporters and reporters on his chartered jet. It also shows the man under pressure on that fateful day in Sarasota when he got the news that 'America is under attack.' For Bush partisans, the Bruni account will be a mild antidote to Roger Moore's account in his documentary Fahrenheit 9/11. Bruni dwells on 'small moments' because they reveal every bit as much about Bush as large ones and capture what
makes him so fascinating." Ambling Into History reflects Bruni's evolving view of Bush as an unthreatening, easygoing man designed for easygoing times. Then, with 9/11, the winds change, and you are along with the author as he describes the transformation of the president after al-Qaida transformed the world."
Read the complete column at the Star's Web site by clicking here. Access other recent Ken Bode essays here, here, here, here, here, here, here and here. Professor Bode reviewed The Bushes: Portrait of a Dynasty for the Boston Globe last month. Read more here.
Source: Indianapolis Star
Back