Entrepreneurial 'List' of Angie Hicks '95 Now in 16 Markets, Eyes 36 More
June 27, 2004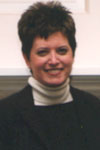 June 27, 2004, Greencastle, Ind. - "You used to just ask your mom," says Angie's List founder and 1995 DePauw University graduate Angie Hicks in today's Indianapolis Star. "But that's not an option for most of us anymore. We are trying to create that network of family and friends." Angie's List creates and maintains a list of home service providers -- from electricians to pest control companies -- and shares the data it collects with its customer base. So, if you need a plumber, the company can give you a report that shows you which firms satisfied customers the most. The Star article notes that the company is expanding three times faster than it has ever grown before.
The story -- written by J.K. Wall, a 2001 graduate of DePauw -- points out that Angie's List recently opened an office in Philadelphia, "the company's fourth new market in five months... And the Indianapolis-based firm isn't done. It plans to open in three to six more markets before the year's out. One of those will be in San Diego, meaning Angie's List will stretch its 'homeowners' grapevine' from Cape Cod to California. It now operates in 16 markets -- including its newest locales of Pittsburgh,

Kansas City, Dallas-Fort Worth and Philadelphia -- and has designs on entering the nation's 52 largest cities by the end of 2007."
Wall says the accelerated growth came after the company "streamlined its operations, sped up the process it uses to open a new market and received an infusion of new capital late last year." Access the story by clicking here.
Last month, Angie Hicks was profiled in Ohio's Columbus This Week. Read more here.
Back