Missed Opportunities Mar Bill Clinton Biography, Prof. Ken Bode Writes in Boston Globe
June 27, 2004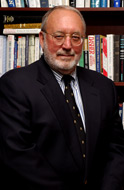 June 27, 2004, Greencastle, Ind. - "Early in his 957-page autobiography, Bill Clinton tells the story of his dying uncle Buddy, who admitted he was going through a tough time," writes Ken Bode in today's Boston Globe. "'Yeah, it is,' Buddy told Clinton, 'but I signed on for the whole load, and most of it was pretty good.' Halfway through the book, I felt just about the way Buddy did," says Bode, Eugene S. Pulliam Distinguished Professor of Journalism, in a review of Clinton's memoir, My Life.
"Bill and Hillary's grand adventures in Arkansas politics are the best, most richly detailed parts of this book," Dr. Bode opines. "It is commonly assumed that Clinton's political persona was shaped most strongly by being thrown out of office after a single two-year term as governor. His description of that term, what went wrong, and what was his fault is about as self-reflective as he gets in My Life. His comeback two years later, the first of many, tells the reader much about the essential political character of the man who would become the 42d president."
Bode, former CNN senior political analyst, continues, "among the most interesting sections of this book are those where Clinton exercises his talent for political analysis. His state-by-state review of the 1992 battle for the nomination is as good as exists anywhere, as long as he sticks to politics. However, this is also the period where the scandals began -- womanizing, marijuana, and the draft -- and each of these is resolved in typical Clinton fashion: in Bill's favor."
The book loses all momentum, according to Professor Bode, in its second half, after Clinton is sworn in as president. "The ensuing 500 pages on the Clinton presidency is like getting a shot of Novocain between the eyes. It is not writing, it is annotated stenography. This part of the book could have been edited with a lawnmower ... The great loss here is that so much more was possible. For example, there are a dozen mini-descriptions of Clinton's meetings with the Russian president Boris Yeltsin, including his last phone call when his 'old partner' told him he was quitting, turning things over to Vladimir Putin.
Nowhere, however, does Clinton take the opportunity to give any insight to his volatile, alcoholic Russian counterpart, to describe his relationship with Yeltsin or analyze what it meant to America's relations with Russia."
You can read the entire two-page review at the Globe's Web site by clicking here. Ken Bode writes a weekly op-ed column for the Indianapolis Star in which he analyzes the world of politics. Read about his most recent entry, published Friday, by clicking here.
Source: Boston Globe
Back