"We Cannot Take A Recess," Vernon Jordan '57 Tells Sigma Pi Phi Centennial Celebration
June 30, 2004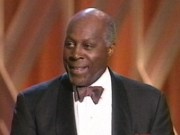 June 30, 2004, Greencastle, Ind. - "'Don't get too big for your britches. That was (my mother's) constant refrain,' said Vernon Jordan at the opening public session of the Grand Boulé of the Sigma Pi Phi Fraternity yesterday," begins a story on the 1957 DePauw University graduate in today's Philadelphia Tribune. The quote from Jordan, senior managing director of Lazard LLC and former president of the National Urban League, continues: "I'm thinking that a world that looked to the Americas with sympathy and empathy after September 11 now fears us as a muscle-bound, runaway sovereign, acting on its own, without regard for its friend or allies or historic diplomatic tradition."
Jordan addressed the fraternity's Centennial Celebration, which has brought more than 1,200 members and their families to Philadelphia this week. The story notes,
"Membership to the fraternity, also known as the Boulé, is by invitation only. Jordan is a Boulé archon."
"I believe America can change because I've seen it change, and I have personally and professionally benefited from that change," Jordan, an adviser to Presidents Clinton and Carter, said. Writer Elaine Welles mentions Mr. Jordan's DePauw degree and that he "holds honorary degrees from more than 50 colleges and universities in America... Jordan noted the historic significance of Brown v. Board of Education of Topeka, Kansas, a landmark decision that resulted in civil rights legislation, without which he and others like him --including members of the Sigma Pi Phi Fraternity -- could not have reached to such heights in corporate America and achieved the economic success they have enjoyed. 'I would not have seats in the corporate boardrooms of America without Brown,' he said, 'and your horizons would be limited, too.'
But, as much as has been accomplished, there is still unfinished work, he continued. 'We cannot take a recess. We have risen in the world. We have accomplished much. Most of us enjoy wealth, power and position far beyond that experienced by most of our brothers and sisters. But I learned in Sunday school, to whom much is given, much is required,' said Jordan."
Read the complete article by clicking here.
A story posted two days ago noted that Vernon Jordan has been named John Kerry's lead debate negotiator, and has also been elected president of the Economic Club of Washington. Read it by clicking here.
Back