Prof. Ken Bode Examines Two John Kerry Biographies in Weekly Op-Ed
July 2, 2004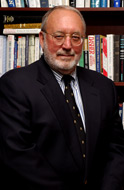 July 2, 2004, Greencastle, Ind. - Following through on his promise of last Friday -- when he analyzed two new books about President George W. Bush -- today, Ken Bode, Eugene S. Pulliam Distinguished Professor of Journalism at DePauw University, examines two recently published tomes on Democrat John Kerry. Writing in the Indianapolis Star, Bode says Douglas Brinkley, author of Tour of Duty: John Kerry and the Vietnam War, "is not a polemicist and this is not a campaign biography. It is straight shooting."
Dr. Bode continues, "To the dismay of his campaign staff, John Kerry turned over everything from his Vietnam years to Brinkley, a distinguished historian. Kerry was a pack rat, so Brinkley writes from hundreds of letters to and from family and friends, notebooks from mission briefings, Kerry's personal diaries, even tape recordings from his combat days as a Swift Boat commander in the brown water jungles of the Mekong Delta ... The book ends with Kerry's Vietnam comrades assembled after 35 years to

set off on their commander's presidential announcement tour." (Douglas Brinkley visited DePauw on April 5, 2004 as part of the Crain Lecture Series. Access a story, including video and audio clips, by clicking here)
The second book John F. Kerry: The Complete Biography by the Boston Globe Reporters Who Know Him Best, is the work of reporters at the senator's hometown newspaper, who have covered him for years. "If Brinkley provides a psychological profile of Kerry during his Vietnam years, the Globe more fully fills out his personal life, his family, faith, and failed first marriage, his early lawyering (notorious hair transplant cases), his marriage to Teresa Heinz Kerry. If George W. had his 'nomadic years,' as he says, Kerry had his 'gypsy years,'" Bode writes.
The professor, former senior political analyst at CNN, says especially interesting items in the second Kerry book examine "his relationship with John McCain, which began with 'simmering mistrust' on McCain's part and grew into warm, mutual respect. Also, the report on

the one time George W. and Kerry met at Yale and had their first disagreement. On what issue? I'll leave that to you to find out."
Read the entire column by clicking here. Access Ken Bode's essay on the Bush biographies here.
You'll find other recent op-eds by Bode here, here, here, here, here, here, here and here. Professor Bode reviewed Bill Clinton's autobiography, My Life, for the Boston Globe last Sunday. Read more here.
Source: Indianapolis Star
Back