Rev. Susan Richards Daly '93 Featured in Newspaper
July 3, 2004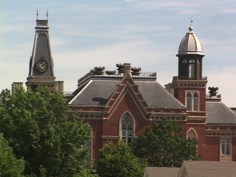 July 3, 2004, Greencastle, Ind. - "After graduating from DePauw University with a degree in geography, she entered the Peace Corps and served in Guatemala," writes the Sun of Wheaton, Illinois of the Rev. Susan Richards Daly, a 1993 graduate of DePauw University. "Coming home, she did social work for a while and later took a job at an organization providing health care for migrant workers. It wasn't until she participated in another mission trip that she could no longer deny her true calling. She enrolled in the Chicago Theological Seminary and was ordained in 2001."
The story details how Daly, associate minister at the Congregational Church of St. Charles, Illinois, met and married the Rev. Michael Daly, pastor of St. John United Church of Christ in Naperville.
Kathy Millen writes, "As practicing ministers, Mike and Suzy understand and support each other in their commitment to their respective congregations. Unlike most young couples, the Dalys usually stay home on Saturday nights. It is a time of contemplation and preparation for the Sabbath and a time for prayer and meaningful discussion. Mike may do some

last-minute fine-tuning on the sermon he has been writing since the previous Monday. Suzy reviews the prayers she will lead. Once a month, she also preaches a sermon. She and her husband often bounce ideas off each other."
The Dalys were married in May. Suzy admits to getting a bit nervous when she's called upon to deliver the week's sermon. "Mike, and everyone else who preaches weekly, tells me it gets easier with each week that you do it. I sort of stew all week. The weeks that I preach, I'm out of whack."
You can read the lengthy article at the newspaper's Web site by clicking here.
Back