Prominent Military Sociologist Charles Moskos Speaks September 30
July 5, 2004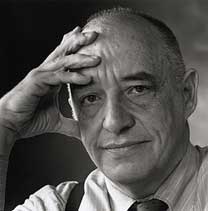 July 5, 2004, Greencastle, Ind. - The Wall Street Journal calls Charles Moskos America's "most influential military sociologist." On Thursday, September 30, Moskos will come to the campus of DePauw University for a Gertrude and G.D. Crain Jr. Lecture. The event will begin at 4:15 p.m. in Watson Forum of the Eugene S. Pulliam Center for Contemporary Media and is free and open to the public. (photo at left: courtesy John Reilly Photography)
Charles Moskos is professor emeritus of sociology at Northwestern University and the author of many books, including The Military: More Than Just a Job?, The Postmodern Military: Armed Forces After the Cold War, The American Enlisted Man, and All That We Can Be: Black Leadership and Racial Integration the Army Way , which was named best political book of 1997 Washington Monthly. The oft-quoted Moskos told the Christian Science Monitor this month that America's reluctance to reinstitute a military draft creates a condition of "patriotism lite" --

people define themselves as patriotic but are "not willing to sacrifice anything."
After receiving his bachelor's degree, with honors, from Princeton University in 1956, Moskos served as a draftee in the U.S. Army combat engineers in Germany. Following his military service, he received his Ph.D. from the University of California-Los Angeles in 1963.
Dubbed "the dean of military sociologists" by The Economist, Dr. Moskos' research has taken him to combat units in Vietnam, Panama, Saudi Arabia, Somalia, Haiti, Bosnia, Kosovo and Iraq. He was appointed by George H.W. Bush to the President's Commission on Women in the Military (1992) and by the U.S. Senate to the Commission on Military Training and Gender Related Issues (1998). In 1993 he advised Nelson Mandela on ways to radically integrate South Africa's post-apartheid military. A year later, President Clinton cited Professor Moskos on national television in announcing the "Don't Ask, Don't Tell" policy on homosexuals in the military

and again in 1996 as the inspiration for his youth service program. The Department of Defense awared Moskos a medal for his research in Operations Desert Shield/Storm. He holds the Distinguished Service Award, the U.S. Army's highest decoration for a civilian.
Endowed by Rance Crain, president of Crain Communications and a member of DePauw's Class of 1960, the Crain Lecture Series, which honors Mr. Crain's parents, is designed to enrich the DePauw environment in the area of public affairs and public issues. Moderated by Ken Bode, Eugene S. Pulliam Distinguished Professor of Journalism at DePauw, Crain Lectures feature a conversation between the guest and Dr. Bode, as well as what the professor calls "maximum opportunity for audience participation."
Back