Selection of John Edwards Suggests Kerry's Target is the Midwest, Prof. Ken Bode Writes
July 9, 2004
July 9, 2004, Greencastle, Ind. - Of John Kerry's choice of John Edwards as his running mate, Ken Bode writes, "A GOP spokesman said the Edwards selection represents a political calculation. True, but the target is the Midwest, not the South."
In his weekly op-ed in the Indianapolis Star, Bode, Eugene S. Pulliam Distinguished Professor of Journalism at DePauw University, continues, "Americans are beginning to understand the Electoral College better than they had ever thought necessary. Consider the math. The Midwest clout more than rivals the South. Six states in this region -- Ohio, Michigan, Iowa, Minnesota, Wisconsin and Missouri -- were won or lost last time by 5 percent or less.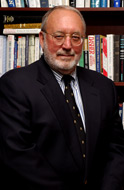 The Democrats must defend this territory, must hold what they have and gain if possible. This is the part of America where job losses have been most extreme and where voters are most pessimistic on the question of whether America is on the right or wrong track."
Dr. Bode, former senior political analyst for CNN opines, "What Kerry really has done is gamble that a Southern moderate with a strong populist message delivered in Edwards' upbeat optimistic fashion will work in the Midwest. His 'Two Americas' campaign theme is aimed at the middle class in middle America, where education, tax policy, health insurance and even the war in Iraq are different for the haves and the have-nots."
The professor later adds, "One good thing about all this is that the vice presidential debate in Cleveland ought to be a doozy. With his recent instruction to Patrick Leahy on the Senate floor and his scolding audiences to quiet down and listen on the campaign trail, Cheney is beginning to look like a grumpy uncle. Contrast this to the boylike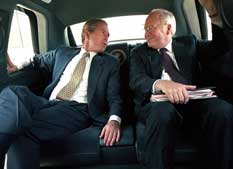 Edwards and his happy warrior act. If they sold tickets to this vice presidential debate, the scalpers in Cleveland would make a fortune. Meanwhile, the GOP will attack Edwards' lack of experience. Asked the difference between the two vice presidential nominees, President Bush replied, 'Dick Cheney could be president.' To many Democrats that is the scariest phrase in the English language."
Read the complete essay at College News.org. Access other recent op-eds by Bode here, here, here, here, here, here, here and here.
Source: Indianapolis Star
Back