NFL Co-MVP & Philanthropist Peyton Manning to Deliver Ubben Lecture October 26
July 12, 2004
Access Video & Audio of Ubben Lectures
July 12, 2004, Greencastle, Ind. - Peyton Manning -- the 2003 National Football League co-Most Valuable Player and president of the Peyback Foundation, a non-profit organization that serves underprivileged children -- will come to the campus of DePauw University on Tuesday, October 26, to deliver a Timothy and Sharon Ubben Lecture. Manning, the Indianapolis Colts' four-time Pro Bowl quarterback, will speak on leadership. The event, which like all Ubben Lectures is free and open to the public (see complete list by clicking here), begins at 12:30 p.m. in Kresge Auditorium of DePauw's Performing Arts Center.
Manning, who led the Colts to the AFC championship game in 2003, is the only NFL quarterback to throw for 3,000 or more yards in each of his first six seasons and the only one to throw for 4,000 or more in five consecutive seasons. He's also thrown 25 or more TD passes in each of the past six campaigns and has started the first 96 regular season games of his career -- also league firsts --
and completed 2,128 passes for 24,885 yards in his first six years, all-time NFL high marks. Peyton Manning is the son of New Orleans Saints quarterback Archie Manning and the older brother of New York Giants quarterback Eli Manning. Peyton played college football for the University of Tennessee, where he was selected by the Indianapolis Colts as the first overall pick in the 1998 NFL Draft. He and his father co-authored the book, Manning: A Father, His Sons and a Football Legacy.
Peyton Manning became the poster boy for college and amateur athletics by opting to stay in school for a final year of eligibility rather than moving on to the NFL. The All-American earned his undergraduate degree in only three years, finished number one in his major and led his team to the SEC Championship.
A leader off the field as well as on, Peyton established the PeyBack Foundation to promote the future success of disadvantaged youth by assisting programs that provide leadership and growth opportunities for children at risk. The PeyBack Foundation makes sizable donations to various organizations throughout the year including tens of thousands of dollars
in educational scholarships, and in direct assistance grants to children and families in need. The PeyBack Foundation also hosts the PeyBack Classic each September in the RCA Dome. The event invites inner-city high school football teams to play in the RCA Dome and in the first two years provided $120,000 to improve the schools' athletic programs.
Last December, the Peyback Foundation hosted a holiday party at the Indianapolis Children's Museum for more than 1,000 disadvantaged children from 31 different Indianapolis community agencies. The event included dinner, Christmas presents, live entertainment and the opportunity to visit the nationally renowned museum. A similar event was held at the Children's Museum in Manning's home state of Louisiana for more than 500 underprivileged youth. The Peyback Foundation also benefits children in Tennessee, where Manning played collegiately. "It's fantastic what Peyton does for these kids," Jean Patton, a vice president with The Villages of Indiana,
an agency that cares for abused and neglected children throughout the state, told the Indianapolis Star.
Manning is also personally involved with CASA (Court Appointed Special Advocates), helping abused and neglected children, and is spokesperson for the National Football Foundation's "Play It Smart" educational program in high schools across the country. Through the Manning Passing Academy, Peyton and his family also distribute funds to Special Olympics of Louisiana, the Fellowship for Christian Athletes and Bridge House. He is also the youngest and first professional athlete to benamed to the NCAA Foundation Board of Directors. Due in large part to his work in the community, Peyton Manning was named by the Indianapolis Business Journal as one of the state's "Top 40 Leaders Under 40." Manning has also ranked in the Forbes "Celebrity 100" as one of the nation's most powerful entertainers and athletes.
In a USA Weekend profile, Dennis McCafferty wrote that Peyton Manning has "spent his life contradicting the stereotype of the self-absorbed athlete. In high school, he made an effort to know every classmate's name. Making millions in pro football? Sure, but Peyton Manning is giving back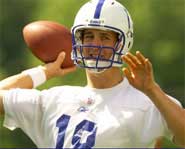 more than his fair share ... Manning and his corporate sponsors finance nearly 100% of his foundation's expenses. Only 3 years old [in 2002], his PeyBack Foundation already gives out more than $100,000 a year, staging dozens of charity efforts, mainly for disadvantaged children." Manning told the magazine, "We don't set out to solve all the world's problems right away. But our work is catching on. We're now able to reach out to more and more people. That's what I want to build upon."
In naming Peyton Manning the 2003 Player of the Year, Football Digest stated, "Nobody runs an offense more proficiently and creatively than Manning does. Not only is he a gifted athlete, but he also is like a coach on the field. He passed for 4,267 yards in 2003, had 29 touchdown passes against only 10 interceptions, and posted a passer rating of 99.0. In the process, he led the Colts to a 12-4 record and the AFC South title."
The Ubben Lecture Series has brought distinguished individuals to the DePauw University campus since 1986, including Ambassador L. Paul Bremer, 2004 presidential candidate and retired General Wesley Clark, former British Prime Ministers Margaret Thatcher and John Major (seen in photo meeting with DePauw students), General Colin Powell, Ross Perot, Spike Lee, Mike Krzyzewski, Harry Belafonte and ice cream entrepreneurs Ben & Jerry. To view a complete list of Ubben Lecturers, which includes links to video clips and news stories, click here.
(photos of Peyton Manning with children courtesy: AJ Macht/Indianapolis Colts)
Back