MSNBC.com Says Stories in New Book by Cathy Day '91 Are "Magically Told"
July 12, 2004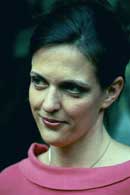 July 12, 2004, Greencastle, Ind. - "This is a series of latter-day fairy tales, each of which could stand on its own, but is made more intriguing by the intersecting sets of characters," writes MSNBC.com of The Circus in Winter, the new book by 1991 DePauw University graduate Cathy Day. "Like the Brothers Grimm, Day chronicles terrible grief, unrequited passions, and fitting revenge; her characters are real humans who sweat and lust," Kim Rollins writes. "Day's tales are at turns tragic, but magically told and sparingly ornamented with wry humor. Escapist summer reading has rarely hit so close to the bone."
Meanwhile, a lengthy profile in New Jersey's Princeton Packet notes, "Ms. Day, 35, a tenured professor of literature and writing at The College of New Jersey, started the story cycle in 1991 while an undergraduate at DePauw University in Indiana. Whenever fellow students and professors at DePauw asked Ms. Day where she was from, she would tell them circus stories. 'My favorite thing was to tell how my great-great uncle was killed by an elephant,' she says... When it came time to select the topic for her senior thesis,
one of Ms. Day's professors suggested she write about 'that weird circus town you're from.' So for her senior year, she returned to Peru, winter home of the Hagenbeck-Wallace Circus -- as well as Cole Porter's hometown; the Great Porter Circus was partly named for him -- to write an essay. There, the writing major discovered the actual newspaper clipping about her great-great uncle's death, along with pictures."
The Packet story, which includes several color photographs of the author, can be accessed here. Read the MSNBC.com review in its entirety by clicking here. Sunday's Denver Post published an excerpt of Day's book (read it here). Enjoy an earlier story on Cathy Day, her book, and how it's roots can be traced back to DePauw, here.
Back